Toshiba recently announced the all new mini NB505 netbook and an update to the award-winning mini NB305 netbook, featuring enhanced styling and performance.
Toshiba's netbooks feature premium designs, full-sized keyboards, large touch pad and are enhanced with travel-friendly smart features to make on-the-go computing more convenient.
The new mini NB505 brings a new level of quality and style to entry-level netbooks. The netbook is topped with Toshiba's new rubberized EasyGrip Finish on the cover that makes it easier to carry, while also reducing fingerprints and a flat keyboard with Black textured finish on the inside. The netbook will be available in a variety of standout colors to match one's personal style, including Turquoise, Blue, Lime Green, Brown and Orange. Featuring the Intel Atom N455 processor, up to a 250GB hard drive and 1GB of DDR3 RAM, the 2.9 pound mini NB505 is extremely affordable at just $299.99 MSRP.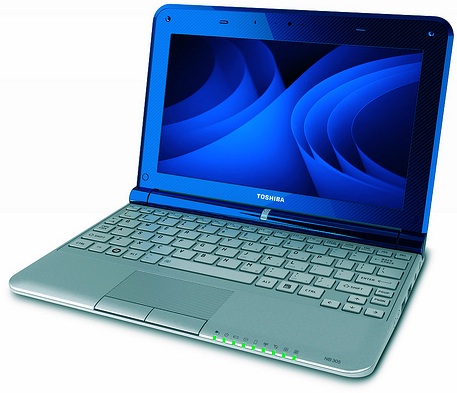 The new mini NB305 redefines premium by providing a sleek new look to match its improved performance. The netbook features a sophisticated and sturdy Aluminum cover and the new Intel Atom N550 dual-core processor for a richer Internet experience and an improvement over previous generation processors in power-efficiency. The 2.6 pound mini NB305 features a 250GB hard drive supported by Toshiba's Hard Drive Impact Sensor, 1GB of DDR3 RAM and includes a USB 2.0 port with Sleep & Charge that enables users to charge various devices even when the unit is turned off or in sleep mode.
Pricing and Availability
Both Netbooks are available now at the following prices:
Toshiba mini NB305 Reviews
From Critics Around the Web