Ultra-Mobile, Dual Touch Screen Windows 7 PC
The Toshiba libretto® W100 is a next-gen ultra-mobile concept PC with a full Windows® 7 experience that can be enjoyed across two multi-touch touch screens.
Optimized for Versatility, Performance and Convenience
The libretto W100 is powered by Windows 7 Home Premium and comes equipped with an Intel® Pentium® processor, 2GB of fast DDR3 memory and a 62GB solid state drive–plenty of horsepower for enjoying rich Internet and multimedia content. With the libretto W100, users can take advantage of all the Windows applications they commonly use, including productivity apps like Microsoft Office and video chat like Skype. Built-in connectivity features, including 802.11b/g/n and Bluetooth® give users the flexibility to connect from any hotspot or pair the device with their favorite wireless accessories, such as a mouse, headphones and more.
Innovative Design for Multi-tasking on the Go
With an ultra-portable weight of just 1.8 pounds, the libretto W100 is designed to deliver a rich Internet experience, multimedia playback and the freedom to multi-task–just like a standard laptop–but with the advantage of two seven-inch diagonal touch screens to work, watch and play on. The multi-touch touch screens can work independently or together, giving users the flexibility to decide how they want to use them. Surf the Web on one screen while checking e-mail on the other, view two documents simultaneously or view a webpage across both screens. A built-in 3D accelerometer allows the libretto W100 to rotate into portrait or landscape modes, making the device look and feel more like a book, newspaper or magazine.
Designed for portability, the libretto W100 features a compact and durable clamshell design with a brushed metallic finish. The traditional clamshell design allows the device to fold up for easier portability, while protecting the screens from breaks and scratches. Measuring a mere 4.84 inches by 7.95 inches when closed, the device fits easily into almost any bag or jacket pocket.
Simplified Navigation with Premium Toshiba Apps
The libretto W100 features six virtual keyboard modes plus a virtual touchpad. The keyboards feature haptic technology, providing sensory feedback when the keys are selected, making typing fast, accurate and easy. Keyboard modes include simple, full, numeric 10-key and split thumb mode keyboard styles, providing users with options to fit their own personal style or task.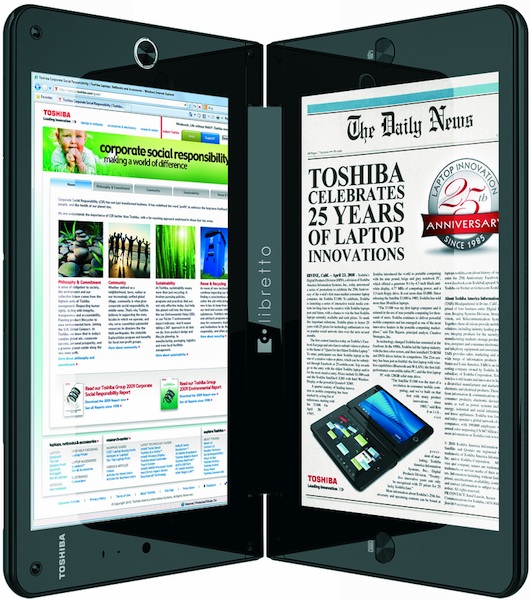 To make navigation as easy as possible, the libretto W100 includes several premium Toshiba apps that enhance the computing experience:
Toshiba Bulletin Board gives users greater personalization of their desktops with fast access to daily activities, tasks and projects, plus the ability to drag and drop photos, videos, links, documents and application shortcuts into one place.
Toshiba ReelTime helps users easily find files based on when they were opened with a simple visual history. With the flick of a finger, quickly scroll through automatically generated previews of documents, photos, videos and more, filter by file type or use the calendar to go back weeks or months.
File Browser makes it easier to access file folders and applications. Quick access to the apps and keyboards are easily accessible via on-screen icons.
Features available on the Toshiba libretto W100 include:
Dual 7.0-inch diagonal multi-touch displays (1024 x 600)
6-mode virtual keyboard with haptic response
Windows® 7 Home Premium operating system
Intel® Pentium® U5400 processor (1.2GHz)
2GB DDR3 memory
62GB Solid State Drive
1.0 megapixel HD Webcam with Toshiba Face Recognition
802.11 b/g/n wireless
Bluetooth 2.1+EDR
MicroSD card slot
One USB 2.0 port
TOSHIBA Bulletin Board, ReelTime and PC Health Monitor software
8-cell battery
7.95″ (W) x 4.84″(D) x 1.2″(H)
1.8 lbs.
Availability
A limited number of the libretto W100 concept PC will be available for purchase later this summer.