From 19 to Advanced 55″, the 2009 Toshiba LCD TV Line-Up Has It All
Toshiba America Consumer Products, L.L.C. ("Toshiba"), a market leader in LCD TVs, today announced its full 2009 line-up of LCD televisions offering striking new cosmetics, unique technologies, more advanced features and additional screen sizes. From 19-inch to new 55-inch Cinema Series models, Toshiba's line-up offers a TV to fit every room and lifestyle at every price point.
"The new REGZA is 'more than you expected, and everything you need,'" said Scott Ramirez, VP, Marketing. "The level of technology we have packed in at every price point is certainly more than you would expect, and with all of our new series Toshiba definitely has everything you need."
THE 2009 TOSHIBA LCD TV SERIES – more Series, more features, more opportunities
AV600 Series – 720p HD – Small Sizes, Big Features
Toshiba's AV600 series packs a powerful punch in a small package. These sets are offered in 19-inch and 22-inch screen sizes (measured diagonally) in a new high-gloss black cosmetic design, and are a great choice for consumers looking to replace old analog sets to prepare for the upcoming digital TV transition.
AV600 models feature DynaLight™ dynamic backlight control for deeper black levels and two HDMI™ digital inputs for simple high quality connection to cable/satellite boxes, DVD players and more. These models also include a PC Input for use as a PC monitor or gaming TV, and unlike other smaller TVs they also feature Gaming Mode to shorten the signal to screen time for faster game controller response. Plus, all Toshiba 2009 TV models will meet ENERGY STAR 3.0 certifications.
AV502 – Mid-Size 720p HD
Toshiba's AV502 series mid-size 720p HD models just started shipping in September and will continue throughout 2009. Available in 26-inch, 32-inch and 37-inch screen sizes (measured diagonally), these models come fully equipped with DynaLight, Gaming Mode, 2 HDMI Digital Inputs and a PC Input. Cosmetically, these models feature their own attractive high-gloss black design.
RV525 – 1080p Full HD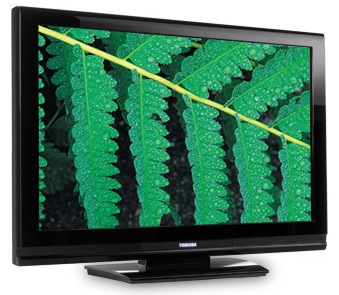 Stepping to 1080p Full HD is the Toshiba RV525 Series. Also shipping now and continuing throughout 2009, these models have 3 HDMI digital inputs with REGZA-Link (HDMI CEC) and a High-Res PC Input. Available in 40-inch and 46-inch screen sizes (measured diagonally), this series also adds QSound for enhanced audio quality.
REGZA XV645 Series – REGZA Engine, ClearFrame™ 120Hz, and Bottom Deep Lagoon™ Design


Toshiba's REGZA line is powered by Toshiba's PixelPure 5G 14 Bit internal digital video processing, the heart of the REGZA engine. All REGZA models also include Resolution+ super resolution technology, the soul of the REGZA engine, to upconvert and enhance 480i/480p and even 720p signals to create increased detail so everything will feel like HD.
The XV645 series is available in 40-inch, 46-inch and 52-inch screen sizes (measured diagonally), and includes ClearFrame 120Hz technology for clearer fast motion video, as well as AutoView™, which automatically sets picture settings based on the incoming video signal and ambient room light. This series includes three HDMI digital inputs with enhanced REGZA-LINK (HDMI-CEC) and a high-resolution PC input. Cosmetically, this series features Toshiba's new Bottom Deep Lagoon design with invisible speakers. Inspired by nature, this design provides a three dimensional feeling to a clean, flat design.
REGZA ZV650 Series – An All-New Level with ClearScan 240™, CrystalCoat™, Dolby Volume, and Next Gen Connectivity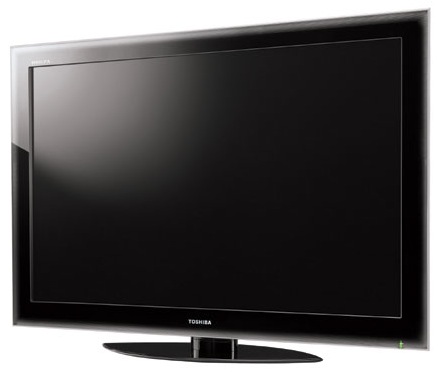 The REGZA ZV650 series is available in 42-inch, 47-inch and new 55-inch screen sizes (measured respectively at 42, 47 and 54.6-inches diagonally) and adds ClearScan 240, which combines a 120Hz frame rate with new Backlight Scanning Technology to create a 240Hz effect for an all new level of picture clarity with fast motion video. For improved sound, the ZV650 series also adds Dolby Volume, which eliminates annoying, inconsistent volume levels from commercials or when changing channels. Connectivity is also taken to an all new level with four HDMI digital inputs that have enhanced REGZA-Link (HDMI-CEC), and InstaPort™ for faster HDMI switching. To allow playback of downloaded content, this line also adds a USB Port allowing consumers to watch their JPEG pictures, MPEG-1 & 2 video or even DivX video and listen to MP3 audio. There is also an SD Card Slot that allows easy viewing of JPEG digital pictures by simply taking the memory card from the camera and placing it in the TV.
Cosmetically, this series features the Full Deep Lagoon Design with invisible speakers.
REGZA SV670 Series – FocaLight™ LED Backlight with Local Dimming and Stunning Infinity Flush Front™ Design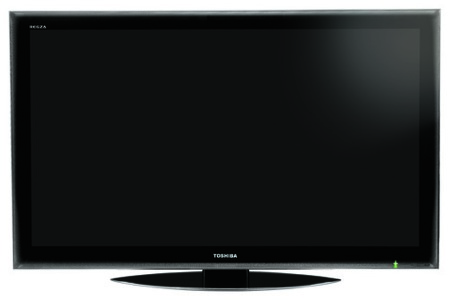 Available in 46-inch and 55-inch screen sizes (measured respectively at 46 and 54.6-inches diagonally), this state-of-the-art series adds FocaLight LED Backlight with Local Dimming. Unlike simple edge LED, FocaLight offers a full LED matrix for enhanced brightness uniformity. Even more important is the local dimming, which creates significantly higher dynamic contrast, as blacks are blacker without reducing the peak white brightness.
The ultimate in cosmetic design, this series features Toshiba's Deep Lagoon process behind the new Infinity Flush Front. Inspired by an infinity pool, this design uses a solid sheet of anti-reflective glass across the entire front of the TV. The stunning appearance of the SV670 will set a new standard in LCD TV design.
An Internet TV
Toshiba plans to introduce an additional series later in 2009 that will incorporate the new TV Widgets, enabled by the Widget Channel framework, which allows consumers direct and easy access to sources of personalized Internet content via their remote control. A rich array of content is available, such as local weather, top news stories, favorite sports scores, stock quotes, pictures, videos and more, and they are all just a click away. In addition, DLNA and Microsoft's Extender for Windows Media Center capabilities will also be added to allow remote control of a compatible PC. With DLNA and Microsoft's Extender for Windows Media Center, the user can access all of the multi-media content stored on their PC's hard disc drive.
Expected Models and Availability:
AV600 Series
19AV600U (March 2009)
22AV600U (March 2009)
AV502 Series
26AV502U (Available Now)
32AV502U (Available Now)
37AV502U (Available Now)
RV525 Series
40RV525U (Available Now)
46RV525U (Available Now)
REGZA XV645 Series
40XV645U (May 2009)
46XV645U (May 2009)
52XV645U (May 2009)
REGZA ZV650 Series
42ZV650U (April 2009)
47ZV650U (April 2009)
55ZV650U (April 2009)
REGZA SV670 Series
46SV670U (May 2009)
55SV670U (May 2009)
Additional REGZA Series to be announced