Qosmio G30/697HS Brings HD DVD Content and Entertainment to a Portable PC
TOKYO – Toshiba Corporation today continued its roll out of next generation HD DVD products with the announcement of the launch of the world's first notebook PC with an HD DVD-ROM drive. "Qosmio G30/697HS" will be available in the Japanese market in mid May, as the latest product in Qosmio line-up of AV notebook PC series. Along with playback of HD DVD content, the new Qosmio can read and write to current DVD and CD discs, including DVD+/-R DL (dual-layer) and DVD-RAM.*2
The groundbreaking Qosmio series has consistently redefined the capabilities and performance of AV notebook computers. "Qosmio G30/697HS" continues this tradition by being first in the world to integrate an HD DVD-ROM drive. The slim-type 12.7mm-thick drive achieves this thin form factor with an optical system requiring only a single objective lens to read HD DVD discs and to read and write to DVDs and CDs. The PC's combination of a high-performance dual-core CPU, the "Intel Core Duo Processor T2500 (operating frequency 2.00GHz)," and high-performance graphics accelerator, the "NVIDIA GeForceTM Go 7600," with advanced PC software technology delivers stunning image quality in playback of HD DVD content.*2
The Qosmio G30/697HS integrates two TV tuners, one for digital terrestrial broadcasts, the other for analog terrestrial broadcasts. As users watch their choice of program — analog or digital — the separate tuners allow them to record both, what they are watching as well as a program from the other tuner all at the same time.
The most striking feature of the new Qosmio is its 17-inch diagonal widescreen, full-HD liquid crystal display. This WUXGA display supports 1920 x 1200 pixel resolution, achieving true high definition and the ability to playback HD DVD content (1920 x 1080 pixel). Beyond this, the new Qosmio also integrates an HDMI output in its external interface, allowing the PC to be hooked up to an HDTV and to act as the video source for a large-sized TVs or home theater projectors.*2
Over the last year, Toshiba has marked 130 years of operation. During this celebratory period the company has designated certain strategic new products as "T130 Products". Qosmio G30/697HS is positioned as a "T130 Product".
Outline of the New Product

Background
As opportunities to enjoy high-definition content are increasing, as broadband networks expand and TV makes the transition to high definition digital broadcasts, consumers also want to see high definition content on their computers as well as on TVs. With Qosmio, Toshiba leads the PC industry in innovations to meet this growing demand. Among recent Qosmio advances are a 17-inch diagonal widescreen display offering support for full-HD, and the world's first integrated support for digital terrestrial broadcasting. Now Toshiba has taken another step into the digital future with the introduction of "Qosmio G30/697HS," expanding the HD environment to include enjoyment of HD DVD package media. The new Qosmio is the world's first PC to support broadband, digital broadcasting media, and HD DVD-ROM. Toshiba has brought the first notebook PC with HD DVD-ROM drive to market to promote the early and fast penetration of the next generation DVD format.
Key Features of Qosmio G30/697HS
World's first notebook PC with HD DVD-ROM drive

Qosmio G30/697HS is the world's first PC to integrate an HD DVD-ROM drive, and does so with a slim-type drive only 12.7mm high. This is achieved with on-drive optical system with a single objective lens able to read HD DVD-ROM discs and read and write to DVDs and CDs.
Playback of HD DVD content with high-definition picture quality and high-quality sound made possible by HD DVD's high density disc storage.*2 The new Qosmio also supports the HD DVD's enhanced functionality of a "pop-up menu". While the full scope of its features will be content driven, it displays menus and movie chapters while a movie is playing, allowing users to search for functions or jump to a desired scene via the chapter guide.*2
In addition to playback of HD DVD content, the Qosmio G30/697HS's integrated drive supports the functions of a DVD super-multi drive (HD DVD-ROM/DVD super-multi drive) and can write to current format discs, including DVD+/-R DL (dual-layer) and DVD-RAM.*2 *3

High-performance AV notebook PC integrating a tuner for digital terrestrial broadcasting

The Qosmio G30/697HS integrates two TV tuners, one for digital terrestrial broadcasts, the other for analog terrestrial broadcasts. As users watch their choice of program — analog or digital — the separate tuners allow them to record two TV programs to the PC's HDD at the same time, the one they are watching plus another from the alternate tuner.
The 17-inch diagonal widescreen, full-HD LCD reproduces the stunning high-definition content of HD DVD discs and digital terrestrial broadcasts.
The Intel Centrino Duo Mobile Technology Intel Core Duo Processor T2500 offers strong support for editing motion images and 3D games. An NVIDIA GeForce Go 7600 supports high-speed fine rendering of 3D graphics.
A 1-bit digital amplifier and large-diameter harman/kardon bass-reflex stereo speakers deliver clear sound in all ranges, from low to high.

Extension interface

The Qosmio G30/697HS offers HDCP capable HDMI output for output of a digital signal on a single cable without any compression of picture or audio data. Users can enjoy the superb picture quality and clear sound of HD DVD content and digital terrestrial broadcasting on a larger screen by hooking it up to the Qosmio G30/697HS via the PC's HDMI interface.*2
A full array of interfaces include 5.1ch digital audio output (S/P DIF), RGB, S-Video output, i.LINK (IEEE1394), AV input (composite video input, L/R audio input), and USB2.0 x 4.*2
Key Specifications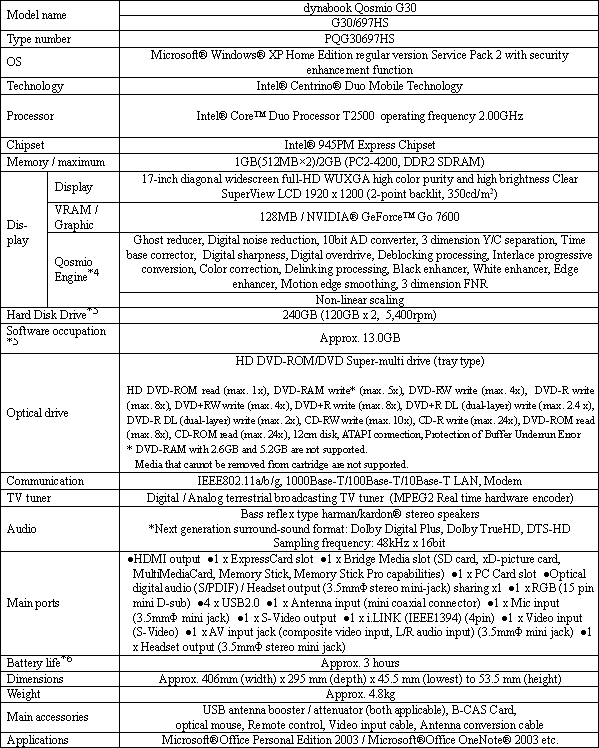 *1 as of April 10, 2006
*2 General. Because HD DVD is a new format that makes use of new technologies, certain disc, digital connection and other compatibility and/or performance issues are possible.
HD DVD Application Logo (HD DVD-ROM) represents the optical drive's compliance with the HD DVD physical format, and does not represent compliance with the specification for the HD DVD General Logo defined by the DVD Forum. Advanced interactive and navigation features of the HD DVD Video format including, but not limited to Picture in Picture (PIP) and network download features are not supported by this product.
HD DVD Playback Capabilities. Depending on HD DVD content, you may experience less smooth motion or lower performance. Viewing of HD DVD content on external display requires an HDCP capable HDMITM or DVI input.
Advanced Access Content System (AACS) keys are integrated into your PC for copy protection purposes. Occasional renewal of the AACS key is required, and easily done by connecting to the Internet. For more information on AACS key, visit www.aacsla.com/home.
*3 Some content and discs may not be compatible.
*4 Depending on the picture source, such as TV, DVD, external input, and playback of recorded images, features of the QosmioEngine may not be operative. QosmioEngine is not operative during playback of HD DVD and viewing and recording of digital terrestrial broadcasts.
*5 1GB is calculated on the basis that 1GB = 1-billion bytes.
*6 According to JEITA's measurement method (Ver. 1.0). This is for a fully charged battery. Operating hours will depend on operating environment. The product has a power saving function. External power required for viewing HD DVD content.