Terra introduced the AC.SUBe partial burial, totally sealed, outdoor (unpowered) subwoofer which uses a massive 12-inch ACAD cone woofer in a sealed enclosure to deliver superb bass outside.
"Unlike the majority of outdoor residential bandpass subwoofers, our AC.SUBe is a totally sealed design which will keep out water, dampness and perhaps most importantly for long term reliability, little critters" said James Banfield, President of Terra. He continued, "This new version uses a larger 12-inch driver with a massive motor structure that delivers powerful, deep bass from an unobtrusive "mushroom" shaped housing."
The AC.SUBe's water-tight rotationally molded polyethylene enclosure is completely impervious to the elements, while its rounded shape and angled top section are designed to reduce internal acoustic reflections (standing waves). The custom-built cast aluminum 12-inch driver is a study in high performance, low distortion and all weather reliability. Its ACAD (Anodized-Ceramic Aluminum Diaphragm) cone is stiff, responsive and impervious to the elements. The driver's motor structure includes a large ceramic alloy magnet and a vented 2-inch aluminum edge wound voice coil. Its surround is a half-roll rubber composite that's also impervious to the elements including salt spray and chlorine mist (as is the rest of the system).
The compact AC.SUBe is designed to be partially buried 2/3 of the way into the ground leaving its mushroom shaped top exposed. It's available in green or black and the color is imbedded throughout the polyethylene material for ultimate durability. The AC.SUBe is conservatively rated to deliver 26 to 115Hz (±3dB) of powerful, authoritative bass in the backyard, the garden or around the pool.
As a passive design the AC.SUBe isn't intended to be used alone. Terra offers a custom programmed Crown Cdi 1000 dual channel power amplifier that's been set up to maximize the sub's performance and integrate its output with Terra's award winning all-climate speakers. The AC.SUBe makes for a spectacular outdoor music system, easily on par with traditional high quality indoor audio reproduction.
Specifications:
Description: Weatherproof high performance passive outdoor subwoofer
Enclosure Design: rotationally molded sealed enclosure
Driver: 12-inch cast frame, ACAD cone
Driver Suspension: Half roll weather-proof rubber composite surround
Installation: Designed to be placed in-ground
Input connectors: 48″ burial grade 16ga. pig-tail with water-proof connector through enclosure
Frequency Response: 26Hz -130Hz +/- 3 dB
Built-in crossover: None
Recommended crossover: 115Hz, 18 or 24dB / octave
Nominal Impedance: 8 Ohms
Rated Sensitivity: 89dB, 1 watt @1 meter
Power Handling: 200 watts RMS, undistorted (<2% THD)
Dimensions: 18″ W x 25″ H (at widest point)
Net Weight: 26 pounds
Colors: Green, Black
Price and Availability
The Terra AC.SUBe Outdoor Subwoofer will be available November 2011 for $1,200.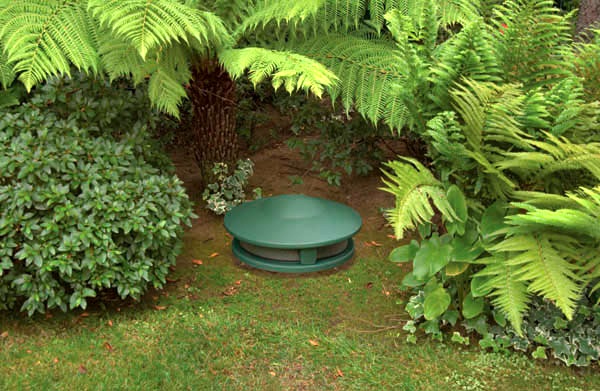 AC.SUBe shown in green, installed in ground.