New additions to the Sidekick family to launch this fall along with Sidekick Nation video contest giving Sidekick fanatics the opportunity to win a $10,000 grand prize that includes a chance to have highlights seen on Jimmy Kimmel Live!
T-Mobile USA, Inc. today announces what Sidekick fans have been craving — the next evolutions of the T-Mobile Sidekick family. Two newly designed devices — T-Mobile Sidekick LX™ and T-Mobile Sidekick Slide™ — will hit the streets this fall and both feature the must-have assets that make Sidekick the ultimate messaging device, including the newly launched, custom-designed MySpace application.(a)
While Sidekick enthusiasts await the new devices, T-Mobile kicks off Sidekick Nation, a user-generated video contest hosted by MySpace where fans have the chance to show their creativity and win a grand prize that includes $10,000 and a trip to Hollywood to see his/her video highlights aired on Jimmy Kimmel Live!
Sidekick LX and Sidekick Slide
Fans of the T-Mobile Sidekick franchise have eagerly awaited and provided feedback for the newest addition to the family. T-Mobile listened to its loyal device enthusiasts and will launch this fall the Sidekick LX, which features a number of enhancements over its predecessors. The Sidekick LX, designed by Sharp, boasts a thinner, smoother profile; a large, pristine WQVGA screen that incorporates high-definition LCD technology and iconic swivel display; a camera with flash; multimedia messaging; and mood lights that let users set specific light settings for various communication alerts, whether a text message, phone call, email, etc. The Sidekick LX will be available in a midnight blue or espresso brown finish on October 17th for existing T-Mobile customers and to the general public on October 24th.
For new customers who want to ensure they are among the first to have a Sidekick LX, reservation cards will be available at T-Mobile-owned retail stores across the U.S. beginning September 26th through October 17th. This card will reserve a device that can be purchased and picked-up on October 24th (for more details, visit your nearest T-Mobile-owned retail store).
Following the introduction of the Sidekick LX, the Sidekick Slide, designed by Motorola, will be available later this fall. With a new look and feel for the Sidekick family, the Sidekick Slide debuts a smaller design featuring a slide up QVGA screen, a compact QWERTY keyboard, full Sidekick messaging technology, and a black finish with deep purple accents.
"T-Mobile Sidekick customers are an amazingly loyal and enthusiastic group that are passionate about their phones and being the hub of their social circle," said Jeff Hopper, vice president of marketing, T-Mobile USA. "The new Sidekick LX is a true upgrade that this group will love, with new features that our customers have been craving. The Sidekick Nation promotion also gives our customers — who already send us fun and creative videos about the Sidekick — an outlet to show off how much they love their device."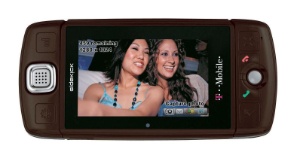 Sidekick Nation: T-Mobile Sidekick Video Contest
In anticipation of the new devices' launch, T-Mobile kicks off Sidekick Nation: T-Mobile Sidekick Video Contest. To enter the contest, fans across the country can create an original video, no longer than two minutes in length, which exemplifies how their Sidekick serves as their social lifeline. Videos are to be submitted on http://www.myspace.com/sidekicknation beginning October 2nd and no later than November 12th. On November 21st, the entries judged as finalists will be showcased on the Sidekick Nation MySpace page for community voting which will help determine the final winner who will win the ultimate grand prize: a new Sidekick LX, $10,000 and a trip to Los Angeles to attend a taping of Jimmy Kimmel Live! where highlights of the winning video will be aired.
For more information on Sidekick Nation: T-Mobile Sidekick Video Contest including the official contest rules, video submission guidelines, prize restrictions and regulations, please visit http://www.myspace.com/sidekicknation. For more information on the Sidekick LX and Sidekick Slide, please visit http://www.sidekick.com.
About T-Mobile USA, Inc.
Based in Bellevue, Wash., T-Mobile USA, Inc., is a member of the T-Mobile International group, one of the world's leading companies in mobile communications, and the mobile telecommunications subsidiary of Deutsche Telekom AG (NYSE: DT). By the end of the second quarter of 2007, approximately 112 million mobile customers were served by the mobile segment of the Deutsche Telekom group — 27 million by T-Mobile USA — all via a common technology platform based on GSM, the world's most widely used digital wireless standard. T-Mobile's innovative wireless products and services help empower people to connect effortlessly to those who matter most. Multiple independent research studies continue to rank T-Mobile highest, in numerous regions throughout the U.S., in wireless call quality and wireless customer care. For more information, please visit http://www.t-mobile.com. T-Mobile is a federally registered trademark of Deutsche Telekom AG. Sidekick is a registered trademark, and Sidekick Slide and Sidekick LX are trademarks, of T-Mobile USA, Inc.
(a) Separate subscription charge applies.