Provides Gamers with Layers of Customization through Interchangeable Keysets
SteelSeries today announced the new SteelSeries Shift gaming keyboard. Named for the ability to alter its appearance and functionality through interchangeable keysets, the SteelSeries Shift brings gamers advanced customization capabilities that improve the way they approach, experience, and master their game.
Premium Build Quality
The interchangeable keyset design is the only common denominator between the SteelSeries Shift and Zboard. The new keyboard was constructed from ground up with high-quality, strong materials that add durability and functionality. The base of the Shift and the new Shift Keysets are all made with premium plastic and finishes for a superior look and feel. With three height levels, extra wide feet, and a wrist rest that include rubber inserts to prevent slipping, users are able to choose what feels most comfortable for their preferences.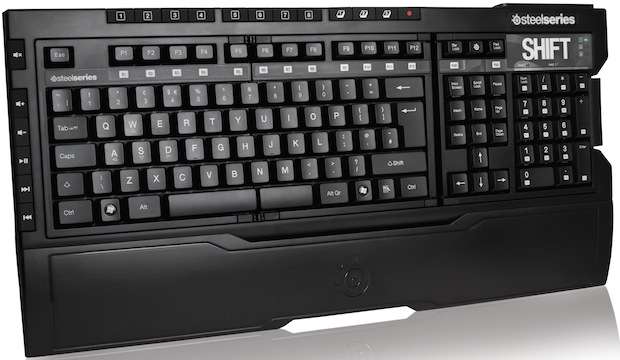 Additional hardware features include:
Gold plated audio-out and microphone-in 3.5mm ports
2 USB 2.0 ports, including 1 powered
LED indicators to alert when profiles and functions are active
Onboard memory allows users to easily record up to 3 layers of on-the-fly macros at the top of the SteelSeries Shift base and have access to instant media controls on the left side of the keyboard. The Bar and Pad Lock keys allow additional layers of mapping on the F and NUM Pad keys that can be utilized in games or in daily applications.

Every key on the SteelSeries Shift can be customized; more than just macros, players can record a sequence of actions with delays and then map that sequence to a single key. Users can then program advanced capabilities in multiple layers per key. Players can take advantage of an endless amount of layered movements with the support of its anti-ghosting capability, which allows up to simultaneous 7 keystrokes.

Customized Gaming Terrain
Equipped with an advanced chip reader in the SteelSeries Shift base, users can easily interchange SteelSeries Shift Keysets from the Standard QWERTY Keyset, which is included, to licensed Keysets of blockbuster game titles that are each sold separately. Every keyset is uniquely designed in cooperation with game publishers and configured with input from expert players to establish an intuitive command setup and predefined game mods for games of all types.

The SteelSeries Shift and Shift Keysets are forward and backward compatible with SteelSeries Zboard and Zboard Keysets. Keysets that support backwards compatibility includes Aion, World of Warcraft®: Wrath of the Lich King, and StarCraft® II: Wings of Liberty. Check out our product page for further details about compatibility.

Price and Availability
The SteelSeries Shift has an MSRP of $89.99/ €89.99 and includes the Shift Base, and the Standard QWERTY Keyset. The SteelSeries Shift Keysets will be sold separately for $24.99 USD/ €24.99.

<!-comments-button-->