CES Innovations Award Honoree SPOT Enables Users Worldwide to Tailor Outgoing Messages to Meet Situational Needs
Significantly raising the safety factor for the hundreds of millions of people around the world who take to the outdoors each year, SPOT Inc., has introduced the SPOT™ Satellite Messenger, the first personal messaging device that allows users to notify friends, family or an international 9-1-1 emergency call center with status messages based on their situation and need. Incorporating both GPS and commercial satellite technology that provides coverage far beyond that of cellular phones, SPOT gives users three message options plus the ability to create a record of their progress for later retrieval using Google Maps™.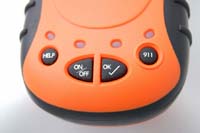 An honoree of the Consumer Electronics Association's (CEA) 2008 Innovations Design and Engineering Award, SPOT, is being showcased here at the 2008 Consumer Electronics Show in the Sands Convention Center, booth 71739.
"SPOT represents a quantum leap in personal safety devices," said Darren Bassel, Director of Retail Marketing for SPOT, Inc. "It gives users a family of features that until now have not been available, and it does it at a fraction of the cost of the more limited devices presently available."
At just over 7 ounces in weight, SPOT is ideal for hikers, backpackers, hunters or any outdoor enthusiasts, especially those who venture outside the range of cell phones. SPOT features four function keys that transmit messages based on varying levels of need:
Alert 9-1-1 notifies emergency responders of your GPS location
Ask for Help sends a request for help with your location to friends or family
Check In lets contacts know where you are and that you are okay
Track Progress sends and saves your location and allows contacts to track your progress using Google Maps™
Designed for extreme conditions, SPOT floats, is waterproof, and works between -40 and 185 degrees Fahrenheit, making it invaluable during any emergency response situation, such as hurricanes and floods, even when landline and cellular service may not be available.
The National Association for Search and Rescue estimates more than 50,000 search and rescue missions are initiated each year in the United States alone, and many of these are undertaken without rescue workers knowing the location of the missing party. SPOT uses satellite technology to determine a user's GPS location and transmits both the position location coordinates and status information to the emergency call center via a commercial satellite network.
Pricing and Availability
SPOT Satellite Messenger is now available through National Outdoor Retailers and through SPOT, Inc.'s Web site, http://www.findmespot.com. The SPOT Satellite Messenger is priced under US $170 with annual service fees at US $99.99. Optional features including automatic tracking service (SPOTcasting) and guaranteed extraction service for countries or regions with non-responsive emergency services can be added at an additional cost.
Coverage
SPOT works around the world, including virtually all of North America, Europe and Australia, portions of South America, Northern Africa and Northeastern Asia, or hundreds or thousands of miles offshore of these areas.
About SPOT Inc.
The SPOT Satellite Messenger, the world's first satellite messenger, uses both the GPS satellite network to determine a customer's location and the SPOT network to transmit that information to friends, family or an emergency service center. SPOT Inc., a subsidiary of Globalstar, Inc., (NASDAQ:GSAT) provides lifesaving communications technology that allows users to communicate from remote locations around the globe. Thanks to this affordable, cutting-edge personal safety device, the company offers people unmatched peace of mind by allowing customers to notify friends and family of their location and status, and to send for emergency assistance in time of need, completely independent of cellular phone or wireless coverage. For more information on how SPOT Inc. is helping users live to tell about it™ – from disaster preparedness to outdoor adventure purposes – visit http://www.findmespot.com.