Sony Delivers Crystal Clear Radio in the Home and in the Car with the XDR-S3HD Table Radio and XT-100HD Mobile HD Radio Tuner
Crafted to sooth even the keenest golden ear, Sony's table radio and in-car audio adapter with HD Radio™ technology embody both high-quality sound and design. With these two products, Sony today announced its long-term commitment to developing and distributing a range of HD Radio-enabled consumer products over the next several years.
With more than 1,300 radio stations available nationwide and a growing listener base, HD Radio technology is the future of traditional radio. It enables FM stations to offer new channels as well as AM and FM stations to broadcast in crystal-clear digital sound. It displays the artist name and song title information and doesn't require any monthly subscription fees.
"Sony is one of the first leading consumer electronics companies to offer quality HD Radio-enabled devices," said Steve Haber, Sony's senior vice president of marketing for the Digital Imaging and Audio Division. "We're adding it to a long list of technologies that support digital music trends."
The Radio of the Future
With a simple yet classic design that complements nearly any living room, the AM/FM/HD table radio (model XDR-S3HD) features a large back-lit blue LCD display set in a mesh-covered front panel and cabinet with rich cherry wood finish. Sporting stereo speakers with a simulated surround sound function, a built-in AM/FM/HD digital tuner and separate bass and treble controls, the table radio with HD Radio capability offers high-quality stereo sound in a small package.
With an auxiliary input jack and supplied cable to connect an external music device, the XDR-S3HD radio lets you play back your favorite MP3 files from your digital music player. The XDR-S3HD radio has 20 AM and 20 FM presets that can be used to store favorite stations for quick access. Additional features include a wireless remote control and a built-in clock with sleep timer and alarm. It will be available in July 2007 for about $200.
HD Radio Ride
Designed to receive high-quality HD Radio broadcasts for most Sony car stereos, the mobile HD Radio tuner (model XT-100HD) is a hideaway module that connects through the Sony head unit's bus interface. It feeds rich information, including artist names and song titles, to the car stereo's display. Additionally, it can display radio station names and genres, where available. The new tuner will be available in July 2007 for about $100.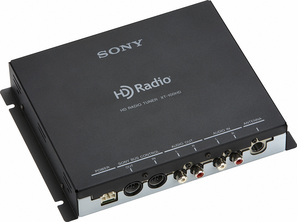 The mobile HD Radio tuner works with most Sony head units to provide additional support for digital music habits. Many of Sony's car stereos come with front aux-in and USB inputs, play MP3 CDs and are iPod and satellite radio-ready. For a complete list of compatible Sony products, please visit www.sony.com/xplod.
The HD Radio-enabled table radio and car adapter will be available online at www.sonystyle.com and at participating retailers nationwide.
HD Radio 101
HD Radio technology improves sound quality so that AM radio stations sound like FM and FM stations sound like CDs. According to iBiquity Digital Corporation, the developer of HD Radio technology, there are more than 1,300 stations already on-air broadcasting with the HD Radio system. There are more than 2,500 additional stations committed to HD Radio broadcasting, as well as over 600 new HD Radio channels. The company predicts that approximately 90 percent of Americans will have access to HD Radio broadcasts within the next two years. A full list of HD Radio stations is available at www.hdradio.com.