Sony has introduced the new Walkman® NWZ-E350 Series Video MP3 Players, featuring outstanding sound quality, advanced audio technologies and extreme battery life. The NWZ-E350 Series supports up to 50 hours of audio playback (mp3 files at 128 kbps) and 10 hours of supported video playback (WMV at 384 kbps). The unit utilizes Sony's own "Clear Audio" technologies, for clear, deep sound without distortion. The model also comes equipped with Content Transfer Software, enabling simple transfer of music and video files straight from a PC or iTunes library (not including DRM files).
The player features Sony's SenseMe technology, which automatically categorizes music tracks in a connected library into a variety of music channels and playlists. It also has a brand new user interface with such features as "Album Scroll" and "Scene Scroll", enabling quick and easy content navigation.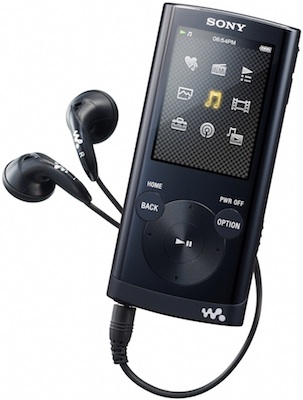 It includes a "Bookmark Function" so listeners can create playlists on-the-fly while listening through songs from their music library. Simply bookmark a song while it's playing to a custom, user-generated playlist. Supported audio formats for the new player include MP3, WMA (DRM), AAC (non-DRM) and linear PCM, and supported video format is WMV (DRM).
Pricing and Availability
The Sony E Series Walkman will be available in two versions next month: