Sony's Newest DVDirect Recorder Now Transfers High-Definition Home Videos to DVD
Sony Electronics debuted its next-generation multi-function DVDirect™ DVD recorder which can quickly transfer high-definition home videos and digital photos to DVD discs without using a computer.
The new VRD-MC5 model can now transfer AVCHD™ quality videos to DVD discs in their native 1080i HD resolution when connected directly to a Sony hard drive or Memory Stick Handycam camcorder. The resulting DVD can be played back on compatible Blu-ray Disc™ devices, including players and computer drives as well as PlayStation 3 (PS3™) computer entertainment systems.
The VRD-MC5 recorder can also transfer standard-definition home videos to DVD without the complexity of using a computer from virtually any camcorder, VCR or digital video recorder. The new model includes Digital Video (i.LINK/FireWire/IEEE-1394), S-Video, Composite Video inputs, and USB (for Sony hard drive, DVD, and Memory Stick Handycam camcorders). DVD video discs recorded in this manner are playable in most consumer DVD players.
In addition, the VRD-MC5 can directly record digital photos to a DVD as a slideshow or just for photo storage from any of the five popular digital camera memory cards. It sports slots for Memory Stick Pro and Memory Stick Pro Duo™ media, Compact Flash, Secure Digital (SD™/SDHC™), and xD-picture card™, or via USB from Sony hard drive, DVD and Memory Stick Handycam camcorders. Users can also import their own MP3 music files to serve as background music.
"With our newest DVDirect model, users can transfer their high-definition videos to convenient DVDs for enjoying and sharing with family and friends," said Robert DeMoulin, marketing manager for branded storage products in Sony Electronics' IT Products Division. "We enhanced personalization and connectivity to make capturing and saving digital memories simple and fun."
The re-styled DVDirect recorder has a built-in 2.5-inch color LCD screen for easily previewing video or up to six digital photos at a time. With automatic DVD menu and title creation, the new model offers four preset menu backgrounds along with the ability to import JPEG images to serve as the DVD menu background: automatic DVD chaptering every 5, 10 or 15 minutes; and stop-timer recording.
Up to six hours of standard-definition video, up to 95 minutes of AVCHD video or up to 2,000 digital pictures can be recorded on a 4.7GB DVD+R/+RW disc. Up to 12 hours of standard definition video can be recorded on 8.5GB DVD+R double layer discs which are compatible when using the DV, S-Video, or Composite video inputs only. The new DVDirect model maintains Dolby Digital 5.1 surround sound, as well as 4:3 and 16:9 aspect ratios with compatible camcorders.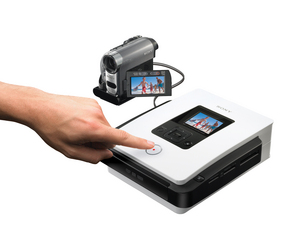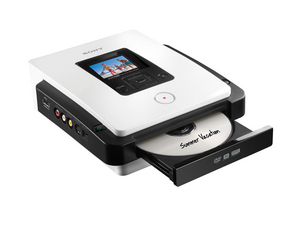 DVDirectand Sony Handycam Camcorders: A Unique Combination
By connecting to the new Sony HDR-SR5, HDR-SR7, and HDR-CX7 Handycam camcorders, users can transfer high-definition videos in their native 1080i resolution to DVDs recorded in the AVCHD format. This allows up to 95 minutes of high-definition video to be recorded on a DVD playable on compatible Blu-ray Disc players.
When recording from standard-definition or AVCHD Sony hard drive or Memory Stick Handycam camcorders to DVDs, users have the option to record all the contents, only new content captured since the last DVD burn, or to utilize the scene selection/date selection/playlist recording modes. Scene selection and date selection recording allows the user to pick and choose individual video clips or photos to be recorded to disc from the built-in 2.5-inch color LCD screen.
The enhanced connectivity to Sony's Handycam camcorder family enables video to "span" multiple DVDs if the video exceeds the capacity of a single DVD. Users may also consolidate several mini camcorder-size DVDs to a full-sized 5-inch DVD using a Sony DVD Handycam camcorder.
Availability and Pricing
The DVDirect model VRD-MC5 will be available in August for about $230. Sony DVDirect products are sold through sonystyle.com, at Sony Style retail stores nationwide, and at authorized resellers and retailers across the country. Pre-orders for the new model are now being accepted online at www.sonystyle.com.