Sony Electronics today set a new benchmark in high-definition performance with the introduction its latest "Elevated Standard" receiver, which supports both 1080p displays and sources.
The STR-DA5200ES receiver's icon-based menu enhances daily operation and set-up process. Bullet identifiers and explanations of the most complex operations make menu functions easy to navigate and understand.
"This receiver was designed with what we call the Full HD 1080 experience in mind, upscaling any source to 1080p, along with the addition of a clever new interface," said Jeff Goldstein, vice president of marketing for Sony Electronics' Home Products Division. "There are plenty of audio and video features packed in to satisfy both enthusiasts and demanding professionals."
The unit is also the world's first to incorporate the Cortez Advanced controller featuring Faroudja DCDi Cinema scaling connected sources to 1080p.
The receiver also offers picture-in-picture for source monitoring and HDMI connectivity for the latest high-definition devices.
Sony's Advanced Digital Cinema Auto Calibration technology included in the unit provides accurate speaker set-up configuration in just thirty seconds.
The company also announced another ES model the STR-DA3200ES A/V receiver, which has been optimized for Blu-ray Disc and other HD sources with 1080p pass-through, up to eight channels of uncompressed audio, smooth video switching, simplified surround sound set-up, and automatic performance adjustment.
Cross Media Bar Inspired Menu
Departing from the traditional text based graphical user interface, the STR-DA5200ES receiver debuts Sony's Cross Media Bar-inspired icon menu system. It allows for easy navigation and control, while high-definition content can play in the background. The GUI can be displayed on-screen in HD through either the HDMI or component connections and in standard definition via composite or S-video connections.
Each connected source can be identified by product or connection type with icon representation. For more customized systems, inputs can be assigned and named using a combination of the on-screen keyboard, icons and bullet identifiers for transparent configuration.
The interface clearly defines settings and actions with text descriptions appearing as you scroll over functions, eliminating confusion while providing valuable feedback. The menu also keeps advanced operations hidden unless desired for safe navigation when toggling between settings. Selecting various surround modes is simplified with pictures and full descriptions of each mode.
Elevated Performance
The unit supports Full 1080p HD performance with Faroudja's DCDi Cinema technology, which Goldstein said makes the STR-DA5200ES the most powerful video performing A/V receiver in the market. The technology helps the receiver upscale sources connected in any manner while applying color correction and time-base correction for the accurate recreation of content. The chip also supports picture-in-picture, second room/source monitoring, down-conversion of the image for multi-zone functions and support for surveillance.
The 7.1 channel receiver has 120 watts of system power per channel. It supports HDMI active intelligence switching and powerful HDMI up conversion from composite, S-video and component sources. This reduces the amount of connections between source, receiver and display.
The receiver supports XM Connect and Play satellite radio as well as XM Neural 5.1 channel stations.
Accurate and Quick Set-up
In addition to the thirty second set-up the Advanced Digital Cinema Auto Calibration technology provides accuracy within one-inch of speaker positions. DCAC uses a stereo microphone to collect room data for precision and to compare measurements, accurately compensating for room reflections based on human hearing principles.
The system also uses a six band parametric equalizer for increased precision. It adjusts for speaker placement, angle, distance and delay based on information the microphone collects and processes in the receiver. Data can then be displayed in an on-screen equalizer chart for manual manipulation.
Memory for three listening positions is available and can be selected via remote or on-screen menu. The receiver also provides three pre-programmed settings, matching all speakers, tuning the sound to the front speakers, and matching the sound characteristics to Sony's professional listening room.
Finally, the receiver comes with multiple assignable HDMI, component and optical inputs, as well as four inputs and three outputs for A/V along with four outputs and three inputs for audio. Multi-channel inputs, a USB connection for portable flash based audio players, RS-232, three 12-volt triggers, and pre-outs are also available.
It will be available in October for about $1,500 at authorized ES dealers nationwide, online through sonystyle.com, and at Sony Style stores.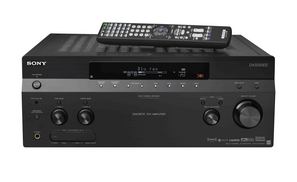 Sony's 2006 ES receiver lineup
STR-DA3200ES A/V receiver supports Blu-ray Disc and offers additional HD enhancing features. The 7.1 channel 120 watt receiver offers two assignable HDMI connections with active intelligence switching and support for up to eight channels of uncompressed audio.
In addition, the receiver can simplify multi-channel surround sound set-up for a balanced home theater experience with its DCAC technology, automatically adjusting for speaker placement, distance and delay based on information collected by the microphone and processed in the receiver.
The receiver also offers text-based on-screen display for set-up and control, as well as a powered multi-room function for two-channel enjoyment in an adjoining room, along with XM Connect and Play satellite ready radio capabilities.
The A/V receiver also comes with assignable HDMI, component and optical inputs, as well as five inputs and two outputs for A/V, plus three inputs and one output for audio.
It will be available in September for about $900 at authorized ES dealers nationwide, online through www.sonystyle.com, and at Sony Style stores.