Sony announced new social features for its upcoming PlayStation Vita (PS Vita) (PCH-1000 series) portable game/entertainment player formerly known as NGP. Applications for Facebook, foursquare, Skype and Twitter will be available at no charge.
"Vita", which means "Life" in Latin, was chosen as the most appropriate name for the next generation portable entertainment system as it enables a revolutionary combination of rich gaming and social connectivity within a real world context. Sony is aiming to transform every aspect of user's daily life into an entertainment experience.

PS Vita incorporates a beautiful 5-inch multi-touch organic light emitting diode (OLED) as the front display and a unique multi-touch pad on the rear. Together with the front touch screen and the rear touch pad, PS Vita offers new game play experiences never before seen on any device, allowing users to interact directly with games in three dimension-like motion, through "touch, grab, trace, push and pull" finger motions. Also PS Vita features two analog sticks which enable a wider range of game genres to be brought into the portable experience, such as shooters, action games, and fighting games. Exciting and attractive new titles are scheduled to be released from SCE Worldwide Studios, including "GRAVITY DAZE", "Uncharted Golden Abyss", "Little Deviants", "Hot Shots Golf", "Reality Fighter", "Hustle Kings", "ModNation Racers", "Wipeout 2048" and "Super Stardust Delta," as well as from a broad range of third party game developers and publishers, which will deliver value only possible on PS Vita.

Also, by having both Wi-Fi and 3G network connectivity, together with various applications, PS Vita will enable users to find and discover what their friends are playing wherever they are. The pre-installed application near will let users discover what games PS Vita users in the vicinity are or were recently playing, as well as let users share their game information. "near" also enables location-based gaming features such as "gifting," in which a user can access virtual game-related items that other users are sharing, through checking in at geographic locations that others have also visited. The virtual items can include content unlocked from games, such as character costumes, weapons, and treasures. Sharing these items between users adds a unique dimension to the portable gaming experience on PS Vita while enhancing the social connectivity among the PS Vita community.
Additionally, PS Vita will come pre-installed with a newly developed application called "Party." "Party" is an innovative application for a portable entertainment system which enables users to enjoy voice chat or text chat not only during online gaming, but also when users are playing different games or using different applications such as internet browser. Through "Party", which offers a new form of social networking, and "near", which enables users to share their game information with other users anywhere, anytime, users can dramatically expand the boundaries of interactive communication.
Price and Availability
The PS Vita which will launch in Japan by the end of 2011, followed by the U.S. and Europe early next year as a Wi-Fi only model or 3G/Wi-Fi model for $249 or $299 respectively.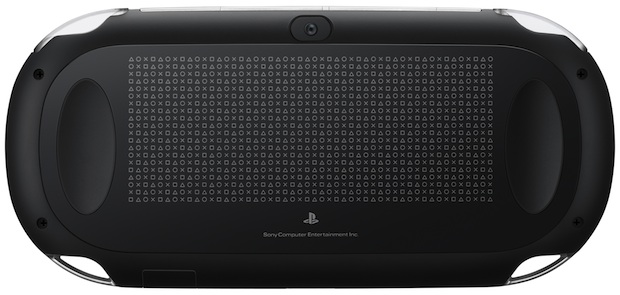 Specifications
Platform Name
PlayStation Vita
Model number
PCH-1000 series
CPU
ARM Cortex-A9 core (4 core)
GPU
SGX543MP4+
External Dimensions
Approx. 182.0 x 18.6 x 83.5mm (width x height x depth) (tentative, excludes largest projection)
Screen
(Touch screen)
5 inches (16:9), 960 x 544,
Approx. 16 million colors, OLED
Multi touch screen (capacitive type)
Rear touch pad
Multi touch pad (capacitive type)
Cameras
Front camera, Rear camera
Frame rate: 120fps@320×240(QVGA), 60fps@640×480(VGA)
Resolution: Up to 640×480(VGA)
Sound
Built-in stereo speakers
Built-in microphone
Sensors
Six-axis motion sensing system (three-axis gyroscope, three-axis accelerometer), Three-axis electronic compass
Location
Built-in GPS (3G/Wi-Fi model only)
Wi-Fi location service support
Keys / Switches
PS button
Power button
Directional buttons (Up/Down/Right/Left)
Action buttons (Triangle, Circle, Cross, Square)
Shoulder buttons (Right/Left)
Right stick, Left stick
START button, SELECT button
Volume buttons (+/-)
Wireless communications
Mobile network connectivity (3G/Wi-Fi model only)
IEEE 802.11b/g/n (n = 1×1)(Wi-Fi) (Infrastructure mode/Ad-hoc mode)
Bluetooth 2.1+EDR (A2DP/AVRCP/HSP)
Slots/Ports
PlayStation Vita card slot
Memory card slot
SIM card slot (3G/Wi-Fi model only)
Multi-use port (for USB data communication, DC IN, Audio [Stereo Out / Mono In], Serial data communication),
Headset jack (Stereo mini jack) (for Audio [Stereo Out / Mono In])
Accessory port
Power
Built-In Lithium-ion Battery, AC adaptor
Supported formats
Music: MP3 MPEG-1/2 Audio Layer 3, MP4 (MPEG-4 AAC), WAVE (Linear PCM)
Videos: MPEG-4 Simple Profile (AAC), H.264/MPEG-4 AVC High/Main/Baseline Profile (AAC)
Photos: JPEG (Exif 2.2.1), TIFF, BMP, GIF, PNG