Sony announced two similar looking Google TV set-top boxes, each with a versatile remote control. The new models include the NSZ-GS7 Internet Player with Google TV, and NSZ-GP9 (pictured top) which adds a built-in Blu-ray Disc Player. The Google TV difference starts with the cross search functionality, which crawls all content sources available from broadcast providers and the Internet to deliver customized video results on demand. Both new boxes come complete with a redesigned remote control equipped with a backlit QWERTY keyboard, a touch pad for easy operation and a three-axis motion sensor to enjoy games. Additionally, the remote control can also be utilized as a universal remote to control connected devices such as TV, set top box and amplifiers — the NSZ-GP9 Blu-ray Disc Player even incorporates voice search capabilities. By using Sony apps Media Remote and TrackID for Android and iOS mobile devices, users may achieve cross-device connectivity. TrackID is also pre-installed in NSZ-GS7 and NSZ-GP9, allowing customers to search on their connected TV. The new remote control can manage basic operations on select compatible 2012 BRAVIA televisions and seamlessly display Android Market or apps on the menu screen.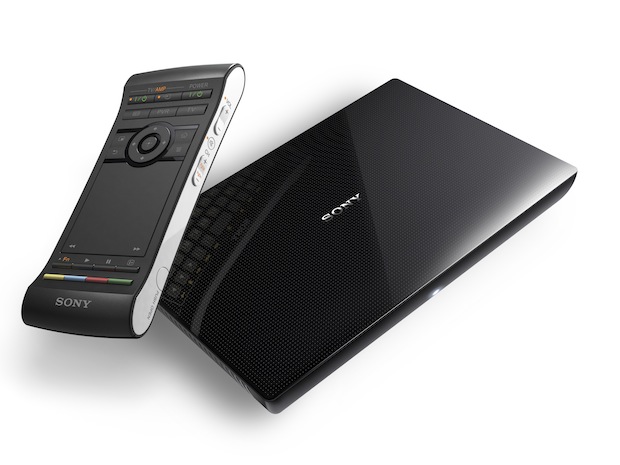 NSZ-GS7
Sony's NSZ-GS7 and NSZ-GP9 bring the best of Google to your TV, with new experiences arriving every day through the Google Chrome browser; thousands of supported mobile apps in the Google Play Store, including hundreds optimized for TV; YouTube with 72 hours of video being added every minute; and a global community of developers from around the world. Google TV's cross search functionality shows viewers all content sources available from broadcast providers* and the Internet to deliver customized video results on demand.

NSZ-GS7
In 2010, Sony introduced the world's first television and a Blu-ray Disc player powered by Google TV. In 2011, the platform was updated and added the Android Market, making the first-generation Sony Internet TV devices easier to navigate and giving viewers access to thousands of apps, including about 150 apps optimized for TV, for an enhanced customized entertainment experience.
Price and Availability
Sony NSZ-GS7 Internet Player with Google TV → $199 (available July 22, 2012)
Sony NSZ-GP9 Internet Player with Google TV & Blu-ray Disc Player → $299 (available Fall 2012)