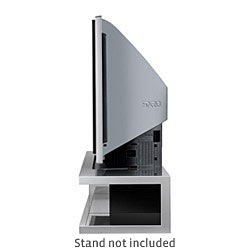 Sony announced today that its new Grand WEGA™ SXRD XBR micro-display HDTV line is now shipping.
The 70-inch KDS-R70XBR2 and 60-inch KDS-R60XBR2 are full 1920 x 1080 high-definition televisions based on Sony's Silicon X-tal (Crystal) Reflective Display technology. The two XBR sets round out the complete SXRD line announced earlier this year.
The latest market share figures reinforce the company's HDTV leadership in the rear projection/micro-display category. According to The NPD Group, a Port Washington, N.Y. based market tracking firm, Sony holds a commanding 44 percent unit share and 43 percent dollar share of the industry in the rear projection/micro-display category.
"Consumers and critics alike understand the performance and value of Sony's Grand WEGA HDTVs," said Philip Abram, vice president of marketing for Sony's television group in the United States "The media buzz around flat-panel often drowns out the benefits of micro-display, but, taking screen size and performance into account, it's difficult to match Sony's Grand WEGA SXRD and 3LCD models."
The new SXRD XBR models, which build upon last year's award-winning models, feature video signal process enhancements include Sony's WEGA Engine HD™ system and Digital Reality Creation Multi Function Version Two Point Five, high resolution video processing technology, which provides crisp and clear pictures. This technology enables the digital mapping of both conventional NTSC sources and1080i HD signals.
Working with Sony's Advanced Iris function, the sets deliver up to 10,000:1 dynamic contrast based on overall light levels of the original signal.
The new models are digital cable-ready with an integrated CableCARD™ slot and TV Guide on screen program guide. Other features include two HDMI inputs with 1080p capability, front HDMI HDV camcorder connection, and a PC input. The XBR models feature side speakers, which are removable on the KDS-R70XBR2 model.
The KDS-R70XBR2 and KDS-R60XBR2 units are available for about $7,000 and $4,300, respectively through sonystyle.com, Sony Style retail stores (www.sonystyle.com/retail), and at authorized dealers nationwide.