Sony announced the 14.2-megapixel DSLR-A560 DSLR camera that leverages Sony's Exmor APS HD CMOS sensor to make it easier for active shooters to get the best shot without missing a moment. Along with the a33 and a55 cameras (also announced today), the α560 model is one of the only DSLR cameras with Multi-frame Noise Reduction, Sweep Panorama mode, 3D Sweep Panorama and Full HD 1920×1080 60i video capture.
The α560 camera offers the same features of its predecessor, the a550, which introduced Quick AF Live View, 7fps continuous shooting and Auto HDR to the step-up DSLR class.
The α560 camera provides excellent picture quality, particularly in low-light scenarios. A new generation of Sony Exmor APS HD CMOS sensor employs low-noise processing for high-quality pictures. The BIONZ ® image processor has color-noise reduction that helps achieve low noise up to ISO 12800, without sacrificing fine detail. Multi-frame Noise Reduction stacks a high-speed burst of six frames, creating a single low-noise exposure that boosts effective sensitivity as high as ISO 25600.
Quick AF Live View
With Quick AF Live View, the α560 camera can focus just as quickly in Live View as when shooting through the eye-level viewfinder, which is unlike any other DSLR in its class.
Because composing shots on the LCD monitor is becoming increasingly important to DSLR users, Sony has equipped this camera with two Live View functions and a 3-inch (measured diagonally) LCD screen that tilts 90 degrees up or down. The α560 has a high resolution 921,600 pixel Xtra Fine LCD display.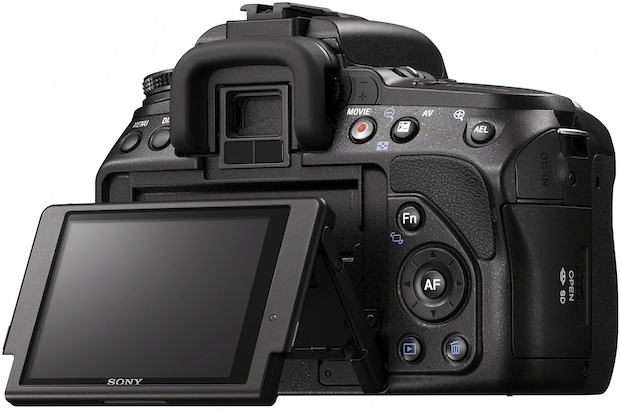 Sony's Quick AF Live View uses two sensors to maintain the same focusing speed as with the optical viewfinder. While the speed of Quick AF Live View is ideal for every day shooting, Focus Check Live View enables critical framing and magnification for setting precise focus in macro and tripod shooting.
Focus Check Live View mode simplifies critical assessment of the finest image details. A real-time 'feed' from the main sensor can be viewed on the LCD monitor, with switchable magnification allowing close-up confirmation of delicate manual focus adjustments. Contrast AF method is selectable in focus check Live View mode.
Temporary 7x and 14x zoom views enable you to focus on extremely fine detail while the 1x view shows 100 percent framing in the LCD.
Fast Shooting Speeds
With its unique sensor-processor combination, the α560 camera is a leader in its class with up to seven frames per second shooting speed for under $1,000. Using the optical viewfinder, you can shoot up to three frames with Quick AF Live View, which helps you capture the decisive moment when shooting fast moving subjects like in sports.
HD Movie Recording
The α560 α camera offers the extra convenience of high-definition video recording. This model also captures Full HD (1920 x 1080i) video in high-quality AVCHD files that can be easily enjoyed on a compatible HD television via the cameras built-in HDMI terminal (cable not included). The camera includes built-in stereo microphones for high-quality audio recording.
With multi-shot technology, the α560 camera's high-speed sensor and processor rapidly captures and assembles many frames to realize unmatched low-noise, extended dynamic range, wide panoramas and 3D images.
The α560 offers versatile creative control even when shooting movies. Creativity is also enhanced by the ability to apply white balance and Creative Style settings, as well as Aperture Priority (A) mode aperture settings, to movies. What's more, exposure compensation can be adjusted even while movie shooting is in progress.
Sweep Panorama Technology
Featuring Sweep Panorama technology, the α560 model captures breathtaking shots up to 180 degree horizontal or 126-degree vertical shots (18 mm focal length).
With 3D Sweep Panorama mode, the camera can shoot 3D panoramic still images with a single lens. The high-speed burst of frames is stitched together using innovative processing techniques to automatically create detail-packed 3D panoramas. These files can be enjoyed in stunning 3D on compatible 3D televisions (other accessories are required).
In-Camera High Dynamic Range
In-camera High Dynamic Range (HDR) has been further enhanced incorporating three shots. It can capture highlights, midtones and shadows. Unlike HDR features in other DSLR cameras, Sony's unique positional interpolation technology can overcome slight changes in camera position and align individual shots so that a tripod is not required.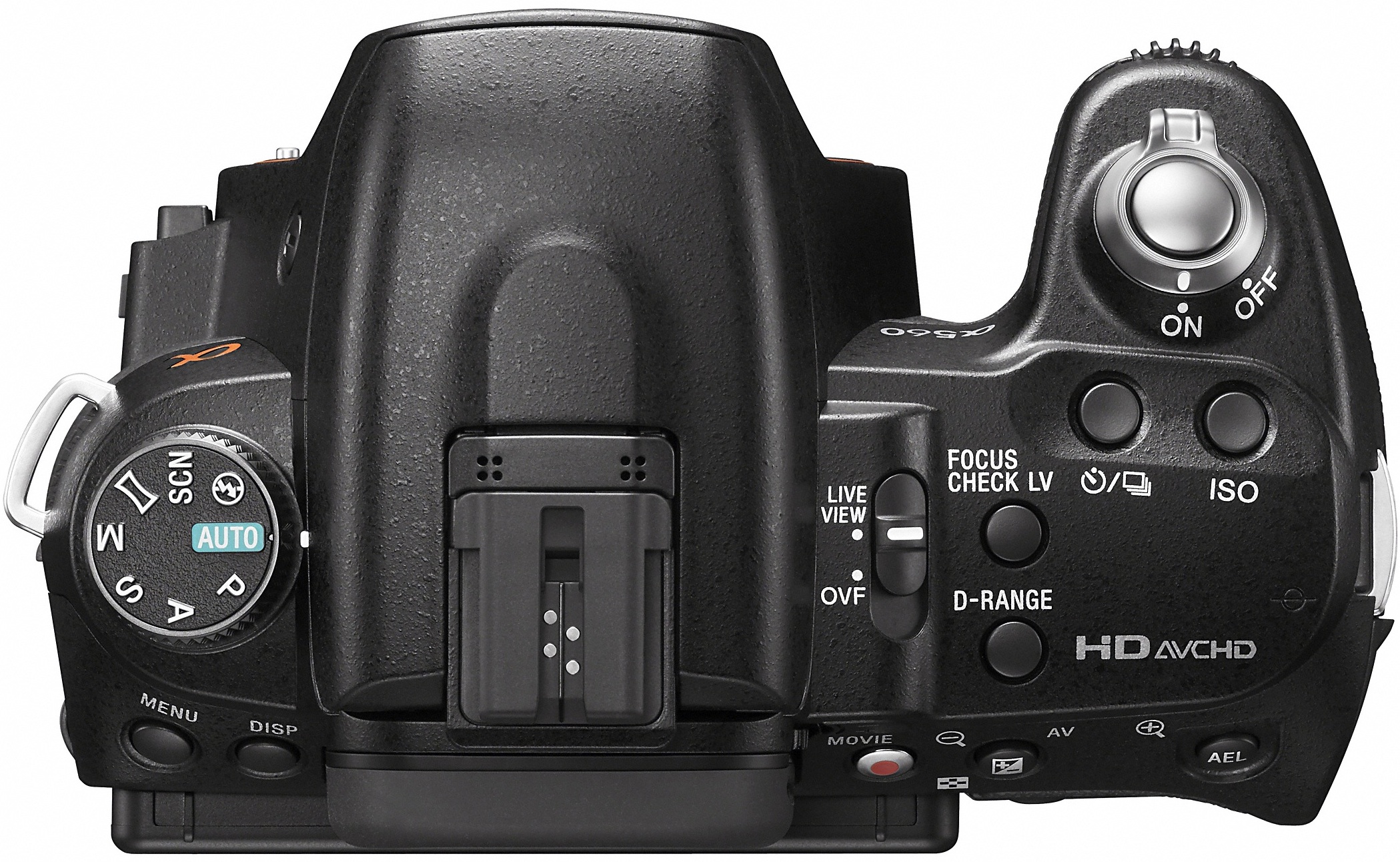 The feature handles severe backlighting and other high-contrast scenes like looking out a window into bright daylight. The in-camera auto HDR technology combines the highlight, midtone and shadow detail of three separate captures into one remarkably natural looking image. The α560 offers a maximum Auto HDR range of 6EV.
Multi Frame NR is a new function where, when the shutter is released, the camera automatically takes 6 frames at the currently selected shutter speed, aperture, and ISO setting, and then combines them into a single JPEG image with a reduction in noise at the selected aperture and shutter speed that is equivalent to approximately two ISO steps. In addition, ISO expansion achieves class-leading, ultra-high sensitivity equivalent to ISO25600, while accurate subject detection assures high-precision alignment of the 6 frames during compositing.
Accessories
The new camera accepts both Memory Stick PRO Duo (including Memory Stick PRO-HG Duo) and SD (including both SDHC and SDXC formats) media (all sold separately). With a 30MB per second transfer rate, Sony's Memory Stick PRO-HG Duo HX offers the best performance of all memory cards whether in continuous shooting mode or transferring data to other media.
Pricing and Availability
The Sony DSLR-A560 Alpha (α560) Digital Camera will be available in October for a MSRP of:
$750 for the camera body only (model DSLR-A560)
$850 for the camera body and 18-55mm kit lens (model (DSLR-A560L)