Sony Electronics today unveiled next-generation dual format DVD/CD recordable drives, featuring three designs that deliver the industry's fastest recording speeds.
The 840 series of drives is Sony's latest crop of multi-format DVD burners that support 20X DVD±R recording speeds, delivering a full 4.7 GB disc of video, data, music or images on standard 16X DVD+R media in about five minutes. In addition, the drives can record on 8.5GB DVD+R Double/Dual layer and 4.7GB DVD+RW discs at 12X speed.


The internal DRU-840A drive and external DRX-840U burner come bundled with the Nero 7 Express DVD/CD mastering software. The new DRX-S70U burner has a slim design to compliment a notebook or desktop PC, supports 8X DVD±R recording speeds, and comes with a full version of the Nero 7 software suite. All three burners support both dual and double layer formats, as well as CD-R/RW recording.
The internal DRU-840A drive incorporates an ATAPI interface for easy installation inside a PC, and includes a black replacement bezel for matching to black-colored PC cases. The external DRX-840U drive features a space-efficient vertical design and offers connectivity with a high speed USB (USB 2.0) digital interface for simple setup.
Both models support 20X DVD±R, 12X DVD±R DL, 12X DVD+RW, 6X DVD-RW, and 12X DVD-RAM for data backup, as well as 48X CD-R and 32X CD-RW recording speeds.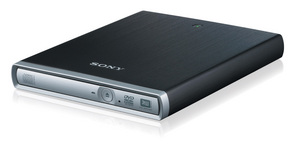 The slim external DRX-S70U burner supports 8X DVD±R, 4X DVD±R DL, 8X DVD+RW, 6X DVD-RW, 5X DVD-RAM, and 24X CD-R/RW recording speeds. It also comes with a high speed USB interface for maximum flexibility.
"Our new high speed drives were designed at the optimum price/performance level for consumers looking to store and share home movies, digital photos and music. They are also fit for businesses deploying DVD video-based training and sharing large files, as well as for filmmakers creating prototypes on recordable/rewritable DVD discs before proceeding with mass replication," said Robert DeMoulin, marketing manager for branded storage products in Sony Electronics' IT Products Division.
Availability and Pricing
The internal DRU-840A drive is now available for about $70; the external DRX-840U burner is expected to ship next month for around $110; and the slim DRX-S70U drive will also be available next month for about $130.
Sony DVD/CD rewritable drives are sold direct online through sonystyle.com and at Sony Style retail stores (www.sonystyle.com/retail) in fashion malls around the country. They are also available from authorized resellers and retailers nationwide, mail order catalogs, and select online shopping sites.
Sony supports what it calls "worry-free" installation, in addition to toll-free customer and technical service, Monday through Saturday, from 8 a.m. to 8 p.m. central time. The company also provides a one-year limited warranty from the original date of purchase.