New BRAVIA™ Theatre systems offer tiny speakers, new features and a room-filling sound
DAV-IS50 combines 5.1 channel DVD home-theatre-in-a-box, tiny speakers the size of a golf ball and wireless rear speakers
HTD-890IS adds 160GB hard-disk TV and DVD recording
HT-IS100 is the perfect surround-sound add-on system to existing Blu-ray Disc™ or DVD players
Sony's DAV-IS10 revolutionised the way we think about 'home cinema in a box', with its gloss-black finish, slick hidden controls and speakers so small they fit comfortably in the palm of your hand. Now Sony has built on that success with the launch of three new 'IS' systems.
DAV-IS50: The full cinema experience made easier than ever
The DAV-IS50 is a sleek and compact home theatre system, yet capable of amazing levels of performance, with a total of 450Watts of power to fill even large rooms with breathtaking surround sound. Its gloss-black control centre combines a slot-loading DVD/CD/MP3 player with surround-sound processing and an RDS FM/AM radio tuner, in a unit just 21cm wide and a little over 10 cm tall. Hidden touch-sensor controls spring to life on the top panel when your hand moves to operate them, enhancing the unit's uncluttered and elegant design.
New wireless rear speakers provide pure, interference-free surround-sound without the need for untidy wiring from the front to back of your room.
To put you at the heart of the action while watching a game or match, Sony's Sports Mode allows the announcer's voice to come through loud and clear from the centre speaker, while the sound of the crowd surrounds you. It's just like being at the stadium!
And to give great pictures to match its superb sound, the DAV-IS50 will upscale pictures from its built-in DVD player to 1080P, so they look stunning on the latest BRAVIA TVs.
Sony's famous BRAVIA™ Sync and Digital Cinema Auto Calibration deliver exceptional ease of use, with movie playback and surround sound set up for your living room achieved with the touch of a single button.
As an optional extra, you can purchase an adapter from Sony's DIGITAL MEDIA PORT range to stream music from your portable device to the DAV-IS50. Not only does it connect your device to the speaker system, it expands the sound of compressed music with Sony's technology, the Portable Audio Enhancer.
It all adds up to a system that sets new standards in the 'home theatre in a box' arena: compact, stylish and smarter than ever, the DAV-IS50 makes the full cinema experience easier than ever.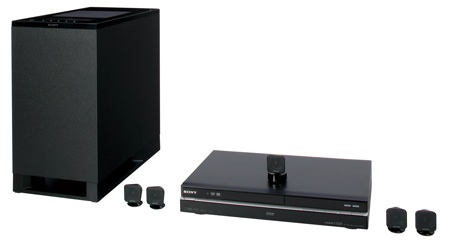 HTD-890IS: High-style home cinema with digital TV recording
The HTD-890IS takes the ultra-compact speaker technology at the heart of the DAV-IS50, and adds a DVD/Hard Disk recorder with 160GB capacity and both digital and analogue TV tuners. It has the user-convenience of the other 'IS' family models, including BRAVIA Sync, Digital Cinema Auto Calibration and DIGITAL MEDIA PORT. It can also accept an add-on module to give wireless rear speakers.
As well as playing all your DVDs, and allowing you to record to blank discs, the HTD-890IS can also store up to 455 hours of TV on its hard disk, while easy to use electronic programme guides, including GuidePlus, make setting recordings simple, and up to 32 recording events can be set up to a month ahead.
The HTD-890IS has two USB ports, enabling JPEG images to be captured and displayed from portable storage devices, and printed using a PictBridge printer. It also plays MP3 files from hard disk, CD-R/RW or USB storage. In addition, it's designed to make copying and editing from a camcorder fast and easy with One-Touch DV Dub for no-fuss copying from camcorder to HDD or blank DVD media.


HT-IS100: The simple surround-sound solution for your Blu-ray Disc™ or DVD player
For those consumers who already have a Blu-ray Disc™ player or a DVD player/recorder, the perfect upgrade solution is the HT-IS100, combining all the surround processing and amplification into a single hideaway subwoofer unit, and again using those tiny speakers made famous in the DAV-IS10 system.
Within the subwoofer is powerful S-Master digital amplification and sophisticated surround-sound processing, able to handle all the surround-sound formats on DVD and also accept high-definition audio from Blu-ray Disc for an even more thrilling home cinema experience.
The system can also accept video signals from all your existing sources, either via HDMI connections or component and composite video sockets, and then will upconvert for a single HDMI cable connection to your BRAVIA TV.
It has the same Digital Cinema Auto Calibration as the other 'IS family' systems, and also features the DIGITAL MEDIA PORT for fast and easy hook-up of portable devices. If you're looking for a simple, great-sounding system to take you from just watching TV to truly experiencing it, look no further.