New DVD-Integrated Home Theater Systems
Representing the most advanced DVD-integrated home theater solutions Sony has to offer are the DAV-HDX589W and DAV-HDX587WC models. With 1,000 watts maximum power each and integrated five disc DVD/CD changers, the DAV-HDX587WC and DAV-HDX589W offer excellent performance and quality with simplified set-up.
The 5.1 channel systems feature a sleek new design and an included "Easy Set-up" disc that provides step-by-step instructions on how to set-up the main unit, wire speaker cables and calibrate all system speakers.
Both come equipped with an iPod cradle, enabling music and video to be played from a connected device through the home theater via a Digital Media Port. (Compatible DMP accessories are required and are sold separately.) Additionally, Sony's new DMPort Booster technology enhances the sound quality of all audio and video passing through the cradle accessory.
To complete the listening experience, each high end system utilizes Sony's S-AIR™ technology, which allows wireless audio to be transmitted easily and effectively — up to 164 feet (signal and sound quality may vary). The DAV-HDX589W system includes S-AIR wireless rear speakers (model WAHT-SA10), and the DAV-HDX587WC features an included S-AIR multi-room listening station (model AIR-SA10). With the purchase of additional S-AIR speaker systems, audio from each home theater can be further expanded in up to 10 rooms of the home.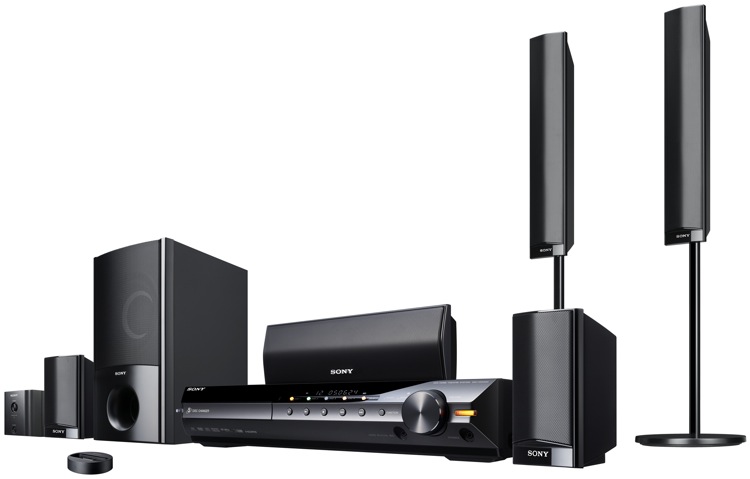 Sony DAV-HDX589W
Further, the DAV-HDX589W and DAV-HDX587WC systems can upscale DVDs to near high-definition quality via an HDMI™ cable when connected to an HDTV set. Both models also feature Digital Cinema Auto Calibration, Portable Audio Enhancer and Dialogue Enhancer, ensuring the optimal surround sound experience. The two home theater systems will be available later this month for about $430.
The AIR-SA10 and WAHT-SA10 S-AIR speaker systems are currently available for about $120 and $150, respectively.