Sony Electronics today unveiled seven home theater systems.
Three of the new systems are being called BRAVIA™ Theater to complement select models of Sony's market leading line of flat-panel BRAVIA LCD televisions.
Three of the new systems are component-based, high-definition capable systems, which are designed for consumers looking to upgrade or purchase their first home theater.
Sony is also introducing a system integrated in a TV stand with a 5.1 channel speaker system and 1080p compatibility. All you have to do is add a 1080p-capable BRAVIA™ LCD TV for a full multi-channel, home theater experience.
"BRAVIA has become a powerful television brand symbolizing high quality and cutting edge design. Incorporating the brand into home theater systems allows consumers to feel confident that the system will complement the TV's features," said Jeff Goldstein, vice president of marketing for Sony Electronics' Home Products Division.
BRAVIA Theater Systems Provide Form and Function
The new DAV-HDX500, DAV-HDX267W, DAV-HDX265 BRAVIA systems integrate a high-quality DVD changer with HDMI™ (High Definition Multimedia Interface) output with 720p/1080i video upscaling for connectivity with the latest HD digital televisions to enhance picture quality and sound.
The systems feature BRAVIA™ Theater Sync, which helps integrate the operation of the system with a compatible BRAVIA television sending control signals over HDMI. With the touch of a button, users can automatically turn on and switch inputs, syncing connected devices making operation easier.
Also included is Sony's new Digital Media Port. This enables the addition of music options with wireless Bluetooth devices, WiFi-enabled PCs and portable digital music players, including select Network Walkman™ players, with a simple connection through an optional accessory. Once connected the device is powered and controlled by the system.
Additionally, Digital Cinema Auto Calibration (DCAC) is included, simplifying multi-channel surround sound setup with the use of an included microphone for a balanced home theater experience.
The DAV-HDX500 system is also XM Connect and Play™ ready with Neural Surround and offers height adjustable floor standing speakers designed to match the style and height of BRAVIA televisions. Optical and coaxial inputs are included for connectivity to digital audio sources. The XM Connect and Play feature requires a separate subscription and antenna for satellite radio service.
The DAV-HDX267W model offers wireless rear speakers for consumers looking to eliminate speaker wire clutter.
The DAV-HDX500 and DAV-HDX265 systems will be available in March for about $500 and $300, respectively. The DAV-HDX267W will be available in April for around $300. An optional wireless rear speaker for the DAV-HDX500 and DAV-HDX265 will be available in March for about $130.
5.1 Component Home Theater Systems
The new HT-7100DH, HT-DDW990 and HT-DDW790 pre-packaged component home theater systems offer the versatility and performance of separate components with the convenience of having a receiver and speakers in one package.
They come complete with five satellite speakers and an 8-inch subwoofer. The models also offer a portable audio input and DCAC technology (microphone included) to automatically calibrate the speakers to the listening environment.
Both the HT-7100DH and HT-DDW990 systems have 900 watts of system power (1kHz, < 10% THD), two HDMI inputs (pass-through) and Sony's Digital Media Port. In addition, the HT-7100DH package provides a 5-disc DVD/CD changer with HDMI connectivity and is XM Connect and Play ready.

Finally, the systems offer optical, coaxial digital, and component inputs.
The HT-7100DH and HT-DDW790 systems will be available in March for about $500 and $200, respectively. The HT-DDW990 will be available in May for about $300.
1080p Home Theater Stand
As an alternative to a traditional A/V receiver and home theater speakers, Sony has created the RHT-G800 home theater system integrated into a television stand.
This system is lavishly equipped with dual 1080p capable HDMI inputs and one output. Its all-digital path from source to display handles full HD resolution and up to six channels of uncompressed Linear PCM audio, providing support for 1080p-capable televisions and Blu-ray Disc™ players.
In addition, the system houses a concealed 5.1 channel surround sound speaker package, ab S-Master digital amplifier and Sony's S-Force Pro front surround sound processing. The stand has the ability to process Dolby Digital and dts encoded content.
The new system also features a pre-programmed remote, two component video inputs, three A/V inputs and one output, four digital audio inputs (three optical, one coaxial), and four analog audio inputs.
The stand is designed to support and match Sony's high-definition BRAVIA™ LCD televisions and will be available in May for about $1000
Digital Media Port Accessories
Also debuting are four accessories for the Digital Media Port, including a Bluetooth audio adapter to accept audio from enabled devices, a wireless network audio adapter for wireless streaming of music from a PC, and cradles for select Network Walkman and iPod digital music players.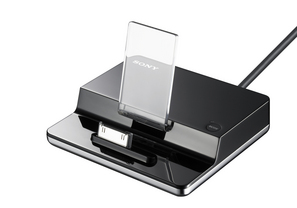 The cradle supports the system's audio and video playback capabilities with on-screen navigation.
The TDM-BT1 Bluetooth Wireless Audio Adapter and TDM-NW1 Network Walkman cradle will be available in March for about $80 and $50, respectively. The TDM-iP1 iPod cradle will be available in May for around $100, while the TDM-NC1 Wireless Network Audio Adapter will be available in June for about $200.
The home theater systems and accessories will be available direct from Sony at sonystyle.com at Sony Style retail stores nationwide, as well as and at authorized dealers throughout the country.