Sony has released their flagship HX series 3D HDTVs for 2012 in 46-inch and 55-inch screen sizes. The new BRAVIA models offer many of the unique-to-Sony technologies and features that consumers have come to expect from a Sony TV, complemented by new enhancements and additional innovations.
Picture quality is enhanced with Sony's X-Reality PRO (HX850) and X-Reality (HX750) digital video processors. The dual-chip X-Reality PRO optical engine optimizes video sources by utilizing a vast database of signal patterns and comparing incoming signals with ideal scenes to display unprecedented detail and astonishing color. The single-chip X-Reality engine separates incoming video into its constituent parts of outline, texture and color/contrast, and then applies image enhancements to deliver its outstanding picture. Finally, Sony's newest version of Motionflow XR (HX850) technology reduces blur caused by quick camera movements, enhancing sharpness and creating a smoother viewing experience for fast-paced sports and movie programming, as well as gaming.
Sony's HX850 and HX750 offer a distinctive Monolithic design incorporating Gorilla Glass by Corning, allowing for thinner, lighter and stronger screen material. The HX850 is a fully Internet-connected television with built-in 3D, delivering a premium viewing experience when on, and a stunning addition to home decor even when off.
The connected features of the BRAVIA line let consumers discover more content through the Sony Portal, featuring one-touch access to the Sony Entertainment Network and its Video Unlimited and Music Unlimited streaming services, offering on-demand catalog of over 80,000 blockbuster movies and favorite TV shows, as well as a constantly expanding global catalog of more than 15 million music tracks.
BRAVIA HX series models also come with Skype embedded. After connecting the Sony camera and microphone (model CMU-BR100, sold separately) users can enjoy free widescreen Skype-to-Skype video calls with friends and family from the comfort of their living rooms (subject to Skype terms and conditions). Users can also make voice calls while simultaneously watching TV.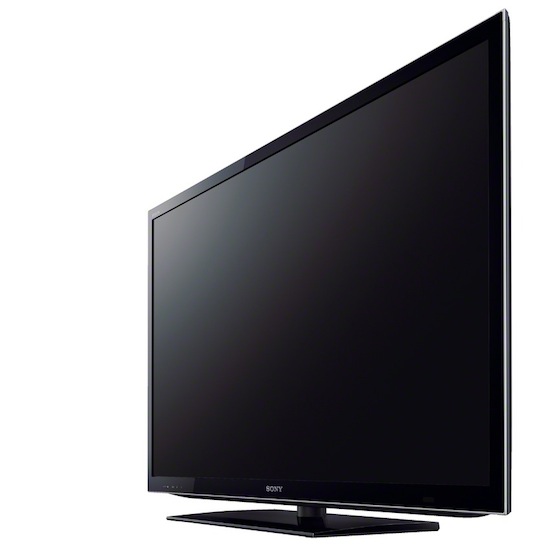 KDL-46HX750
The DNLA-certified and Wireless LAN built-in HX models also easily connect to and share content from mobile devices and computers on the same home network, as well as allow consumers a wide variety of control options via Sony's Media Remote and Remote Keyboard apps, for a comfortable, lean-back experience at home. Viewers can 'throw' a browsed website from a smartphone to the BRAVIA HDTV for easier viewing, and the app allows control of the web cursor with one thumb, tapping for selecting links, and pinching in and out to enlarge or shrink the viewable areas. The apps are available for download from both Android Market and iTunes App Store, and function as a full remote control with keyboard, allowing easy online content search and playback.
Lastly, the Internet-connected BRAVIA HX TVs ensure consumers will never again have to wonder what song is playing during their favorite movie, TV program, or commercial. Sony's Track ID service powered by Gracenote analyzes any selected song playing on the TV, identifies it, and provides artist, album, and song information.
BRAVIA HX850-series LED LCD HDTV with 3D

Brilliant Full HD (1080p) picture quality with Dynamic Edge LED backlight with Local Dimming
X-Reality PRO Engine with 3D Super Resolution
Motionflow XR 960 technology
Frameless Monolithic Design with Corning's Gorilla Glass and OptiContrast Panel Technology
Built-in Wi-Fi (802.11n)
Skype ready
One-touch access to the Sony Entertainment Network and apps
Screen sizes include:

BRAVIA HX750-series LED LCD HDTV with 3D

Brilliant Full HD (1080p) picture quality with Dynamic Edge LED backlight with Frame Dimming
X-Reality Engine
4x High Speed 3D Panel with Motionflow XR 480 technology
Built-in Wi-Fi (802.11n)
Skype ready
One-touch access to the Sony Entertainment Network and apps
Screen sizes include: