Sony Creative Software, Inc. just announced the availability of Blu-print 6™, a Blu-ray Disc authoring application and Z Depth™ 3D subtitle offset editing application. The upgraded Blu-print 6 application offers a host of new features for production studios that significantly enhances workflow processes, including 3D title authoring in accordance with the Blu-ray Disc Association (BDA) Profile 5 Blu-ray 3D disc specification, 3D menu and subtitle graphics, and easy MVC encoded content importing. Z Depth application generates the required offset metadata file needed for a Blu-ray 3D project, thus enabling editors to accurately position subtitles and menu graphic elements in the 3D space.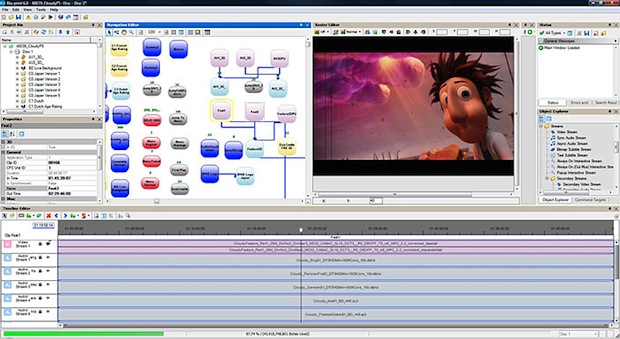 With the new additions to Blu-print 6, studios can author 3D content for the new Blu-ray 3D™ format standard for high volume professional production. The updated software also includes support for offset metadata integration required for 3D Subtitles and 3D menu graphics. To provide increased power and flexibility for complex authoring projects, 3D BD-J (Blu-ray Disc Java) integration and Blu-ray 3D Disc cutting master generation is also supported.
The all-new Z Depth subtitle offset editing application acts as an extension of Vegas™ Pro 9 software to enable 3D authoring companies to easily create required disparity metadata files for positioning of subtitles and menus in a Blu-ray 3D production. New to Blu-ray 3D production, the Z Depth application will enable Blu-ray 3D authoring facilities and subtitle creation companies to produce accurate subtitling in the 3D space that will allow for the most comfortable viewing experience.
Sony Pictures Digital Authoring Center used Blu-print 6 and the new Z Depth application for the Blu-ray 3D production of Cloudy with a Chance of Meatballs, the first Sony Pictures title to be released on Blu-ray 3D™.