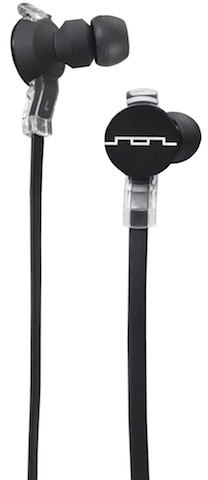 New headphone company, Sol Republic has introduced its first in-ear headphones, named Amps and Amps HD. Each headphone features a unique sound signature, fashion-forward look and includes a remote and mic. While both headphones look about the same it is assumed the HD model (pictured right) should provide better sound.
Sol Republic says they're obsessed with sound quality and dedicated to delivering innovation in sound, style and durability, offering amazing headphones that are affordable for virtually all music fans. Their name "Sol" is an acronym for Soundtrack Of Life because music provides the soundtrack for every memory and for the profound and everyday moments in your life.

The Music Fanatics Behind SOL REPUBLIC
SOL REPUBLIC is comprised of die-hard music fans, including its three co-founders, Kevin Lee, Scott Hix and Seth Combs. All three are veterans of the consumer electronics industry, from development and design to marketing, sales and distribution. Their common bond is a passion for music and to create the best audio experience. Lee, SOL REPUBLIC's CEO, is a longtime senior executive of Monster Cable and credited for driving the widely popular Beats by Dr. Dre line of headphones at Monster. Hix, President and COO, is a longtime senior executive with more than two decades of experience running consumer and custom electronics companies. Combs, the company's CMO, is a passionate music aficionado with an extensive background working with a gamut of businesses, from Fortune 500 companies to Bay Area start-ups.
Price and Availabililty
The Sol Republic Amps headphones will be available at nationwide consumer electronics and specialty retail stores late August 2011 starting at $59.99.
About SOL REPUBLIC
SOL REPUBLIC is a global electronics lifestyle company dedicated to enhancing people's lives through better-sounding headphones. Comprised of music lovers, SOL REPUBLIC develops its products from the ground up to make the best headphones that look, sound and feel unlike anything else in the market. SOL REPUBLIC has offices in California, Oregon and New York City and is developing an army of followers, fans and dreamers in its worldwide social media communities.
See more about: Headphones, In-ear Headphones