With Verismo's Internet TV technology, Sherwood audio receivers double as an Internet TV set top box, enabling customers to watch Internet videos right on their television
Verismo Networks and Sherwood announced the integration of Verismo's award-winning Internet TV solution into Sherwood's popular line of receivers. By leveraging Verismo technology, Sherwood significantly expands the versatility of its receivers — giving consumers the ability to watch millions of Internet videos directly on their TV.
This OEM agreement enables Sherwood to tap into the explosive popularity of online video as a powerful way to differentiate their products. End users not only add an award-winning audio receiver to their home theater, but when connected to the home's broadband network, the receiver brings the world of Internet video as well as personal media such as photos, videos and music from their home network directly to HD and SD televisions.
"Consumers are looking for a new breed of appliances for home entertainment that can bring the rich media assets available on the Internet directly to the TV," said Jeff Hipps, EVP at Sherwood America. "We evaluated the available solutions and were impressed with Verismo's open Internet TV platform — both in terms of the breadth of content that is supported, and as ease of integration into other consumer devices."
Through Verismo's strong content partner network, Sherwood's end users are able to watch the widest selection of online content right on their TV without an additional set top box or computer. Verismo's intuitive interface lets users browse and search for videos from popular web sites, live TV channels from around the world, Live Internet radio, and movies with a click of the remote.
"Sherwood is taking the lead in redefining the market for next-generation audio-video receivers," said Dhaval Ajmera, EVP of Verismo Networks. "This partnership expands the concept of what an audio receiver can do, by combining Sherwood's award-winning audio hardware with Verismo's leading Internet TV platform to give consumers an unparallel entertainment experience."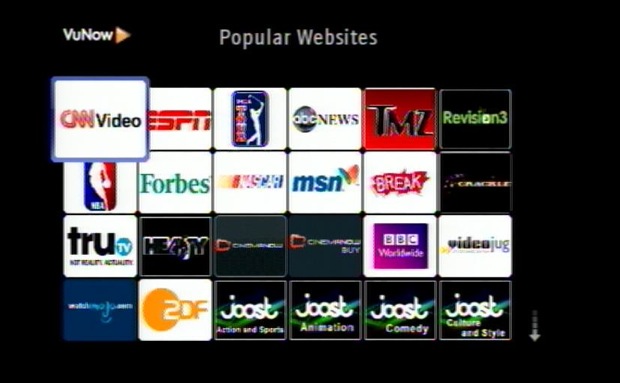 Verismo offers an open platform that enables OEM partners to rapidly bring to market differentiated versions of its Internet TV platform, including private labeling, hardware licensing for high-volume manufacturing, content integration and the embedding of Verismo technology into consumer appliances.
About Verismo Networks
Verismo's VuNow platform transforms the TV set into a powerful multi-media hub with an unbelievable level of choice and ease in accessing digital entertainment. You've never seen your television like this before. The privately held company is based in Mountain View, California with offices in Bangalore, India.
About Sherwood
Since 1953, Sherwood has designed and manufactured high-performance, cost effective audio gear including the world's first all-silicon solid-state receiver and equipment for the first commercial FM stereo broadcasts. Earning high acclaim from discerning critics and millions of satisfied customers worldwide, the Sherwood brand has become synonymous with high performance audio and the development of new technologies like home theater. With many awards from the likes of Stereo Review, Stereophile Guide to Home Theater, Innovations Design Award from CES, Audio Video Revolution, Son Video Magazine (France) among others, Sherwood is one of the few companies to manufacture all the products bearing its name.