Sharp Adds Enhanced Inputs and Network Connectivity to Professional High-Definition Liquid Crystal Display Lineup
Sharp is expanding its comprehensive line-up of professional LCD displays with the announcement of two Monitors that represent upgrades to two successful "PN" series monitors. The new PN-S525, designed for extended use in both landscape and portrait mode, replaces its predecessor – model PN-525U, while the new PN-S655, designed for extended use in landscape mode, replaces its predecessor – model PN-G655U. These new models offer high image quality and performance, adding a new LCD component panel for improved resistance to image retention, as well as additional inputs including HDMI and RJ-45 LAN for advanced connectivity and networking capability. Also joining the professional LCD monitor lineup next month are the PN-S525P and PN-S655P, each with an integrated protective acrylic overlay for high traffic areas.
Sharp's diverse Professional LCD monitor line-up is ideal for use in many different market settings including medical imaging, digital signage, CAD/simulation, conference facilities, retail and hospitality, rental/staging, universities and many more.
"With a constantly evolving high-end, large-screen LCD display suite, Sharp continues to provide customers with the ideal monitor for any commercial setting," said Dan Wynne, senior director, Marketing, Professional Display Division, Sharp Imaging and Information Company of America. "With the added connectivity options, these new LCD monitors can receive the most accurate 1080p signals for precise image reproduction, and the added LAN connection enables quick remote diagnostics — minimizing downtime, expediting maintenance, and providing a more reliable display for a wide range of commercial applications."
PN-S525 Professional LCD Monitor
The PN-S525U 52-inch class (52 1/32″ Diagonal) monitor is designed for the most sophisticated digital signage and display applications in both landscape and portrait modes, with virtually no concern for image retention. This full two-megapixel high-definition (HD) monitor utilizes Sharp's Advanced Super View (AVS) / Black TFT panel for unparalleled image quality with a high contrast ratio (1800:1) and a pixel response time of 6 ms, enabling professional presentations of information and images. An ultra-high aperture LCD achieves high brightness and wide 176-degree viewing angles for a crisp picture that can be seen from virtually anywhere in a room.
Expanding on the former PN-525U's extensive array of inputs including DVI-D, Component Video and RS-232C for system control, the new PN-S525 adds an HDMI input for digital 1080p content as well as an RJ-45 LAN input, allowing the monitor to be controlled, monitored and have diagnostics performed from a central location.
With a streamlined black bezel, rugged rear metal enclosure and a removable front bezel open frame design, the monitor is built for superior performance and can be customized for virtually any digital signage or information display setting. A unique fanless design and optimized internal cooling and backlight system ensure reliable operation and backlight life, even in 24×7 operation.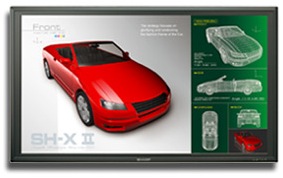 PN-S655 Professional LCD Monitor
The PN-S655 65-inch class (64 17/32″ Diagonal) LCD monitor is designed for landscape operation, offering superior performance for use in a wide range of commercial settings. A full 1920 x 1080 two-megapixel high-definition (HD) resolution and an impressive 2000:1 contrast ratio enable the monitor to offer accurate and precise image reproduction with nearly no image retention, and a bright picture in virtually any lighting condition.
With a rugged design and components, the monitor offers superior reliability for extended use applications. To show multiple types of content sources in high definition, the monitors utilize DFE (Dual-Fine Engine) technology, which provides superior display of both digital and analog sources so the customer can display computer and video content flawlessly. The monitor also has a full complement of input and output connectors to show all types of content, from DVD to varying PC resolutions up through 1920 x 1080 native mode from both analog and digital (DVI-D) sources for all types of presentations. The PN-S655 also adds an HMDI input for digital 1080p sources and an RJ-45 LAN input for remote diagnostics and control.
Sharp's proprietary ASV / Black TFT panel provides stellar picture quality for fast-moving video through its fast pixel response time of less than 6 ms, as well as high brightness of 420 cd/m2 and wide 176 degree viewing angles while maintaining exceptionally low power consumption.
The PN-S525 and PN-S525P are supported with a three-year on-site limited warranty covering parts, labor and backlight in both landscape and portrait mode. The PN-S655 and PN-S655P are supported with a three-year on-site limited warranty covering parts, labor and backlight in landscape mode only. [For professional LCD monitor applications requiring a 65-inch class (64 17/32″ Diagonal) screen size in portrait mode orientation, Sharp also offers the PN-655RU and PN-655RUP (with integrated protective overlay). These models are supported with a three-year on-site limited warranty covering parts, labor and backlight in portrait mode only.]
Pricing and Availability
The PN-S525 is available now through Sharp authorized dealers and value-added resellers for a Manufacturer's Suggested List Price (MSLP) of $4,550
The PN-S525P will be available in December through Sharp authorized dealers and value-added resellers for an MSLP of $6,459
The PN-S655 is available now through Sharp authorized dealers and value-added resellers for an MSLP of $10,795
The PN-S655P will be available in December through Sharp authorized dealers and value-added resellers for an MSLP of $14,225
Reviews Around the Web:

sharp pn-s525