3.1-channel Enhanced Virtual Surround Sound; Touch Panel Technology for Convenience and Flexibility
Strengthening its line of space-saving, high-fidelity audio systems, Sharp introduced a 3.1-channel Sound Bar, model HT-SB500. This unit joins Sharp's current 2.1-channel Sound Bars (models HT-SB300 and HT-SB200), offering advanced audio performance and easy setup to enhance home entertainment systems without multiple added components and costs.
The new HT-SB500 houses left and right speakers, a center channel and subwoofer in one stylish, low-profile unit that complements the latest LCD TV designs. A newly-designed front panel control uses Sharp's Touch Panel technology for the ultimate convenience and high-tech feel.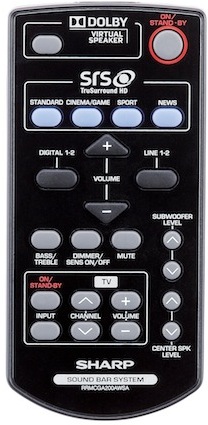 "For consumers who want to take their home entertainment system to the next level without breaking the bank or crowding the living room, Sharp's HT-SB500 provides superior virtual surround sound in a high-style design," said Sean McBride, product marketing manager, audio, Entertainment Products Division, Sharp. "The new 3.1-channel sound bar not only offers fuller, more robust sound than previous models, but also carries a sleek new design with Touch Panel Technology for extreme ease of use."
This 32-watt Sound Bar features digital audio decoding with DTS, Dolby Digital and Dolby Pro Logic II decoder, as well as Dolby Virtual Speaker to effectively simulate 5.1 channel surround sound. Dolby Virtual Speaker eliminates the need for a multi-component system with messy wiring by simulating a realistic 5.1 speaker surround sound environment without placing speakers in the front, rear and sides of the room.
The HT-SB500 also incorporates SRS TruSurround HD that virtualizes channels, creating a superior multichannel surround sound effect with deep bass and crystal clear high frequency reproduction. SRS WOW HD Sound on the HT-SB300 and HT-SB200 provides a natural listening experience and a deep, natural bass response. All three models feature adjustable Bass, Treble and Sub level options for a unique surround sound effect without rear channel speakers.

For flexibility and simple setup, all Sound Bars feature dual audio inputs, right and left RCA jacks and a 3.5mm sub mini jack, which allows for a second audio source such as an MP3 player. The models also include a slim remote control that can simultaneously control a Sharp AQUOS LCD TV, as well as a programmed equalizer and an auto On/Off function. The units can be placed on a TV stand (32-inch class LCD and up) with mounting feet or wall mounted with mounting plates, all included.
Pricing and availability
The HT-SB500 will be available in December for an MSRP of $349.99.
The HT-SB300 is available now for an MSRP of $299.99.
The HT-SB200 is available now for an MSRP of $249.99.
Reviews Around the Web:

sharp ht-sb500