Players Experience the Fun of a Virtual Segway x2 Ride!
The thrill of riding a Segway Personal Transporter (PT) just became a whole lot more accessible. Segway today announced at the E3 Expo that it has been collaborating with Nintendo on a module within the Wii™ Fit Plus video game. Segway worked with Nintendo to take advantage of its Wii Balance Board™ accessory and Wii Remote™ controller to simulate what it's like to ride a Segway x2 in a virtual environment. In the game, the players' Mii™ character zips around the levels trying to pop balloons and then ultimately tag a run-away mole-like creature that comes up out of the ground.
"It's been a lot of fun working with Nintendo on this game," said Eric Fleming, Segway's Director of Creative Services. "There are so many people who are curious about what it's like to ride a Segway PT. This game is the closest you can get to that smile-inducing experience without actually riding one. In addition, it's a great way for the entire family to have a positive experience with our brand," he said.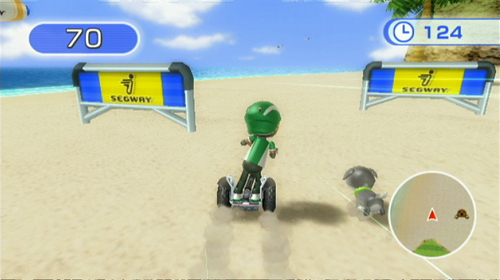 To control the game, a player stands on the balance board while holding the remote in his or her hands (like gripping a handlebar). To move, the rider keeps his feet firmly planted as he shifts his weight forward or back. The balance board senses these motions and the virtual Segway x2 responds on-screen. To turn left or right, the player tilts the Wii Remote in the direction she'd like to go. A combination of this activity enables you to go wherever you'd like to go within the game — similar to what you'd do if you were riding an actual Segway x2.
The module is one component of the greater Wii Fit Plus suite that is a sequel to the immensely popular Wii Fit video game, available exclusively for the Wii™ console from Nintendo. The game is expected to be available later this year through Nintendo Authorized Resellers worldwide.
About Segway Inc.
Segway is the leader in the small electric vehicle (SeV) category; marketing a full line of Segway Personal Transporters (PTs) that are sold through a network of dealers, distributors and retail partners in more than 75 countries worldwide. The Segway PT is extremely maneuverable and carries a single rider up to 24 mi/39 km on a single charge over a variety of terrain. It has impressive energy efficiency, costing only about a penny per mile of travel. Police and security organizations use the Segway PT to connect with the people they serve while being more responsive and effective in their jobs. Consumers use the Segway PT to commute to work, run errands, and enjoy the outdoors in a whole new way. Businesses use the Segway PT to increase the productivity of workers while doing less harm to the environment.