Scosche Industries announces the availability of its powerFUZE line of home and car USB charging systems. The powerFUZE Pro is the signature model and is both "Made for iPod" and "Works with iPhone" certified, and allows users to carry just one charger for all their USB based devices when traveling.
The powerFUZE's unique design can be configured in several different ways to provide many charging solutions. The main body is a home charger that features a USB charging port as well as an AC/DC converter port (in-car style port). The AC/DC converter port allows users to plug their favorite car accessories into any wall outlet. The product also includes an ultra low profile USB car charger that nests neatly in the AC/DC converter port. With the car charger installed in the main body, the unit becomes a dual USB home charger capable of charging 2 devices at once. The USB car charger also fits flush in any vehicles 12-volt power socket, allowing users to charge any USB powered device in the car. Each of the USB ports features 1 Amp output to ensure the fastest charging possible.
"Customer convenience is key factor in all of Scosche's product designs," said Kas Alves, executive vice president of Scosche Industries. "With the powerFUZE our customers can replace multiple chargers with one that works at home and on the road."
Customers can choose between the $34.99 powerFUZE; the powerFUZE PRO, which ships with an iPod/iPhone sync cable for $44.99; or purchase the standalone powerPLUG Ultra low profile USB car charger or powerPLUG Pro version that includes the iPod/ iPhone charge and sync cable for $19.99 and $29.99 respectively. They are available now on Scosche.com and at select retail locations throughout the US.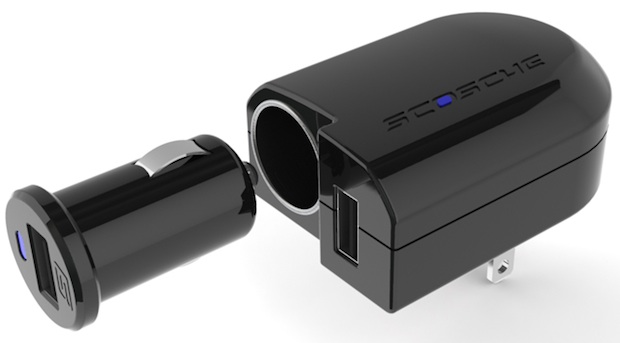 About Scosche Industries:
Scosche Industries is an award-winning innovator of iPod and iPhone accessories. Scosche is founded on its' commitment to quality, value and customer service. With over 55 patents and countless industry awards it is easy to see that Scosche is consistently at the forefront of technology and innovation. Scosche Industries is the parent company of several distinct brands including: Scosche, REALM, EFX, BlueFusion and Accumat. Founded in 1980, Scosche is still 100% family owned and operated with over 120 great people along side them.