Provides multiple viewing angles to make movie watching and typing effortless
Scosche Industries announced the foldIO. This folio style iPad case not only protects the iPad from scratches and scuffs, but it also enables the device to be positioned in multiple viewing angles. Users can watch movies, browse the web and will also find typing on the iPad much more comfortable and ergonomic. The foldIO retails for $49.99 and is available at now scosche.com and will soon be available at bestbuy.com.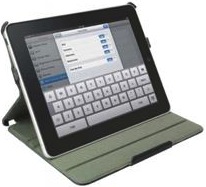 As well as offering protection to the iPad on the move, the foldIO doubles up as an adjustable stand with 3 landscape viewing angles, allowing users to watch movies without straining their necks and to type more easily. The unique corner snap system makes this case extremely low-profile and easy to use.
The foldIO is available in carbon fiber and leather textures. The interior is lined in soft suede like material that folds to protect the screen. The case is lightweight, form fitting and slips easily into a briefcase or bag without adding bulk. It also offers easy accessibility to all ports and controls.