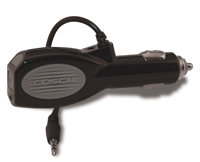 California-Based Scosche Industries Offers Hands-Free Solutions For Cell Phone Users To Comply with New Law Effective July 1
Scosche Industries is encouraging drivers to "obey cell phone laws". The new legislation goes into effect July 1, 2008 in California; other states enacting similar regulations include Connecticut, New Jersey, New York and Washington. Scosche Industries, an innovator of mobile electronic aftermarket accessories, offers several solutions for cell phone users, including the chitCHAT; speaker phone, motorMOUTH; plug and play Bluetooth Car Kit and BlueFusion; integration system.
The new law, Vehicle Code (VC) 23123, prohibits drivers from using a handheld wireless telephone while operating a motor vehicle. Motorists 18 and over may use a "hands-free device." [Drivers under the age of 18 may NOT use a wireless telephone or hands-free device while operating a motor vehicle (VC 23124).]
"Scosche wants to make it as easy as possible for drivers to comply with the new laws," said Kas Alves, vice president, sales and marketing, Scosche Industries. "Our product line ranges from visor mounted speakerphones to top of the line Bluetooth integration systems to cover all of our customers needs."
Most of the cellphones on the market today are Bluetooth equipped and are fully compatible with all Scosche Bluetooth products.
Scosche chitCHAT; (CBHV5) — This Bluetooth speakerphone simply mounts on a car visor like a standard garage door opener. The chitCHATfeatures a high output speaker and DSP echo cancellation to ensure a clear conversation in even the noisiest vehicles. Ideal for parents-on-the-go or busy carpoolers, it has an adjustable caller ID screen display so users can easily identify callers and battery life. It also includes a car charger and USB cable for home charging. The chitCHAT, which retails for $109.99, is a new version of the Scoshe's CBHV($79.95) non caller ID model.
Scosche motorMOUTH; — This Plug-and-Play Bluetooth Car Kit (DIYBRH) recently won the prestigious Consumer Electronics Show Innovations Award. Designed specifically for newer vehicles and aftermarket stereos, the kit is an easy solution to hear calls through a car stereo. motorMouth plugs directly into the MP3/ AUX input enabling hands-free cellular calls to play through the vehicle's speakers. As a call comes in, simply press the answer button and adjust the volume with the car stereo. With Scosche's advanced technology, the music will mute when on a call and once the call is completed the music will automatically turn back on. The motorMOUTH Car Kit retails for $99.99.
Scosche BlueFusion — The most advanced solution for drivers seeking hands-free cell technology, Scosche's new BlueFusion integration interface works through the car factory radio to deliver Bluetooth hands-free and streaming audio. Advanced capabilities include caller ID display on a factory screen with easy "answer" and "end call" buttons located on the steering wheel controls (or buttons on a factory radio). Scosche's smart interface will also switch itself to the correct source to view the caller ID, even while the driver is listening to a CD or radio station. The interface menu enables users to check missed calls, dialed calls, and with select phones, have full access to the phone book. BlueFusion can easily be installed with a simple plug-and-play harness. Available at specialty retailers across the country this summer, this advanced product will retail between $299-$399.
"Scosche has been at the forefront of innovation in the automotive industry for more than 28 years in California," said Alves. "We are a family-operated business dedicated to care for our customers with the best research, design and technical support possible, and our new hands-free products reflect this." To further streamline the transition to hands-free, Scosche Industries, known for its technical support, includes an 800 number and e-mail address for all customers who may have questions about the products,. Visit www.scosche.com for the complete line of Bluetooth products, Scosche product catalogues and more information.
About Scosche Industries
Scosche Industries, founded in 1980 by Roger and Scotia Alves, is a leading manufacturer of high quality car audio installation accessories and products. Scosche recently introduced its BlueLife line of Bluetooth interfaces allowing users to wirelessly transmit music from an iPod or MP3 player in the vehicle or home. The publisher of the Auto Sound Encyclopedia, Scosche Industries manufactures and markets four distinct lines of product. These brands include Scosche, EFX, Accumat and SoundKase. With a dealer network of over 2,000, numerous O.E.M. products, and 52 patents, Scosche Industries is a proven leader in the automotive aftermarket business. For more information visit our website at www. scosche.com.