Sprint and Kyocera announced the Android-powered Sanyo Zio available October 10th from Sprint, which offers the new Sprint ID personalization feature.
Sprint ID allows Zio users to quickly download ID packs that deliver a predefined experience, including applications, widgets, ringtones and wallpapers, all at once. Packs are designed to meet customers' interests, whether they are sports fans, fitness fanatics, auto enthusiasts or more. The packs could be brand-specific; allow users to easily switch between English or Spanish; or be specifically tailored to the customers' businesses or lines of work. The marketplace of Sprint ID experiences is growing and customers can have one or up to five on their devices, powered by the Now Network.
The intelligently sleek device with the customizable Android 2.1 operating system opens new realms of rich multimedia experiences with a 3.5-inch WVGA touch-screen, 3.2-megapixel camera and 30-frame-per-second video record and playback. The handset's high-resolution, touch-screen display is like carrying a flatscreen TV that fits in a pocket.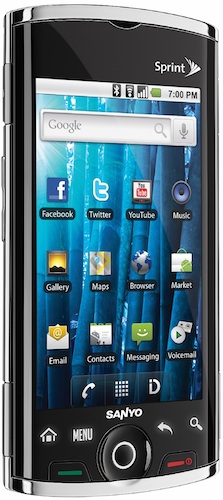 Designed with productivity and entertainment in mind, Zio boasts multiple keyboard options, all with haptic feedback, an accelerometer to rotate between landscape and portrait orientations and an ambient light sensor that automatically adjusts screen brightness to optimize viewing. The easy-to-use trackball also helps users navigate between the seemingly endless features found on Zio, including address book integration with such social apps as Facebook, Twitter and MySpace; GPS functionality and digital compass plus preloaded Google Maps; media player for streaming videos; full HTML Web browser; and a full library of more than 80,000 widgets and applications available from Android Market. Zio also features a pre-loaded Exchange Email application that supports corporate Outlook e-mail, calendar, contacts and tasks, while also supporting ActiveSync and enhanced security features.
As beautiful as it is powerful, Zio is only 0.5 inches thick and weighs only 3.7 ounces, making it one of the thinnest, lightest Android devices on the market. The jet-black exterior is trimmed in silver with a soft-touch back that helps ensure that it won't slip out of your hands. With 512MB of internal memory, a 2GB microSD memory card (provided in box) and support for up to 32GB microSDHC cards, Zio can handle even the most robust of applications.
Find Your Own "Best of Android" with Sprint ID
Sprint ID brings together content into themed packs that can be deployed on Zio at the touch of a button. Zio users can load up to five Sprint ID packs on their phones and change themes on a whim as the mood strikes. Specific packs can even be further customized — adding or removing elements to match preferences — while the MyID function allows users to define and create their own application packs.
Price and Availability
The Sanyo Zio M6000 will cost just $99.99 with a new two-year Sprint service agreement or eligible upgrade and after a $100 mail-in rebate (pricing excludes surcharges and taxes). Cricket Wireless is also selling the phone now.
Reviews Around the Web:

sanyo zio m6000