Sanyo introduced the KBC-L2 Eneloop Mobile Booster rechargeable battery pack, which provides instant back-up power for mobile phones, smart phones, portable music devices and other USB powered devices. The KBC-L2 joins the 'eneloop universe', a group of products based on recycling or 'looping' energy.
With two USB outputs, the KBC-L2 allows two USB devices to be powered at the same time. The SANYO mobile booster not only charges USB devices, it acts as auxiliary power if the battery in the device has completely drained. On a full charge, the L2 provides 5000mAh of power.
The KBC-L2 is based on SANYO's Lithium-ion battery technology. It can be charged using either the bundled AC power adapter or the USB power cable by connecting it to a PC. A mini-USB to micro-USB adapter is also included to ensure compatibility with a wide range of portable devices. The mobile booster can be completely charged in 7 hours from AC power and 14 hours from USB power.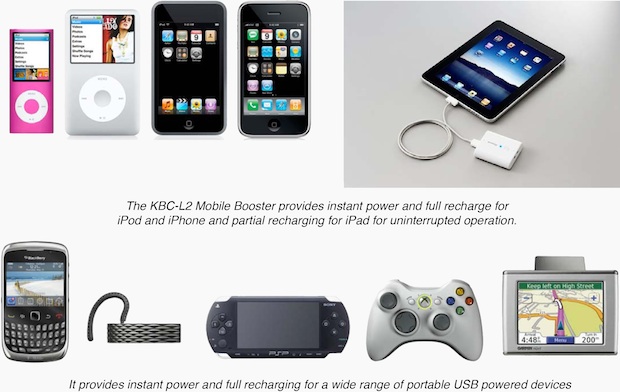 The eneloop mobile booster is designed to be compatible with current configurations of numerous products, including the iPhone 4, 3GS, 3G, iPhone, iPod Touch (1st-4th gen), iPod Classic, iPod nano (1st-6th gen), iPod mini (1st and 2nd gen), iPod (4th and 5th gen), RIM Blackberry Bold, and RIM Blackberry Curve. The L2 provides 5V 500mA output power for charging two devices or 1000mA output power for charging one device. The KBC-L2 will even provide a partial recharge for an iPad or other compatible eReader. To activate the USB output function, the user simply needs to press and hold the DC Out button. The blue power indicator light will stay on for one second signifying that the USB ports are active. The KBC-L2 provides the equivalent power of multiple batteries.
Features
Up to 240 Minutes of Power
5000mAh High Capacity Lithium-ion Battery
LED Power Indicator
Two USB Outputs for Charging Multiple Devices
Charge via AC Adapter or USB
Approximately 7 hour charging time from AC power; 14 hours charging time from USB
Power Two Devices at the Same Time
5V 500mA x 2 USB Outputs –When Using Both Outputs at the Same Time
5V 1000mA x 1 USB Outputs –When Using One Output
Bundle includes: KBC-L2 Mobile Booster Unit, AC Power Adapter, USB Cable, Micro-USB Adapter
Color: White
Price and Availability
The Sanyo KBC-L2 eneloop mobile booster is available immediately for $79.99.
Reviews Around the Web:

sanyo kbc-l2