180° Pivoting Connector for Hard-To-Reach Ports; Can Connect Behind Wall-Mounted TVs With Less Than an Inch of Clearance
Sanus Systems, the leading global manufacturer of audio/video mounts, furnishings and consumer electronics accessories, has announced it will be showing a new line of Sanus Elements 1.3b HDMI Cables at the International Consumer Electronics Show (CES) in Las Vegas, in booth #11040.
Sanus Elements 1.3b HDMI Cables offer an innovative 180° pivoting connector and a depth of less than an inch, making them easy to connect to hard-to-reach ports such as behind TVs attached to low-profile wall mounts.
The HDMI cables are designed to meet the highest performance standards in HD image and sound for true color and lossless audio, with 1080p signal quality for higher resolution and up to 120 Hz refresh rates for smooth visual motion. They support 10-bit, 12-bit and 16-bit (RGB or YCbCr) color depths for deep, rich color.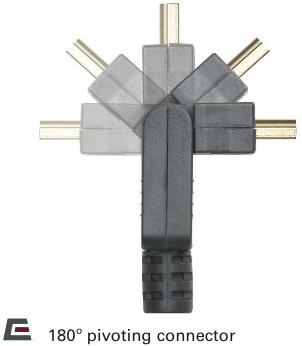 The cables will be available in 2.5, 5, 10, 20 and 30 feet. The flexible cable material bends easily during installation, and gold-plated connectors ensure premium connectivity. Additional features include a VW1 in-wall rating for the 10-, 20- and 30-foot lengths, so the cables can be routed through the wall for a clean, wireless appearance. The 20- and 30-foot cables also offer a built-in amplifier/equalizer for maintaining the highest quality signals at longer cable lengths.
The cables will begin shipping in December 2009 for a list price of $29.99 to $119.99 USD.