Samsung announced the Evergreen (model SGH-A667) quick messaging cell phone built with 70% recycled post-consumer plastics and packaging that utilizes 80% recycled post-consumer paper. It will be available November 7th at AT&T for $29.99 after $50 mail-in rebate.
The Evergreen has a 2.4″ display, features a full slide-out QWERTY keyboard for effortless typing and texting. With one-key access to messages, staying in touch with friends and family is easy and fun. Additional key features include a 2.0 megapixel camera and video camcorder, AT&T Navigator and stereo Bluetooth wireless technology v2.1 + SSP. The Evergreen also includes dual-band 3G connectivity and quad-band GSM technology, which allows AT&T customers to make calls in more than 220 countries and download data in more than 195.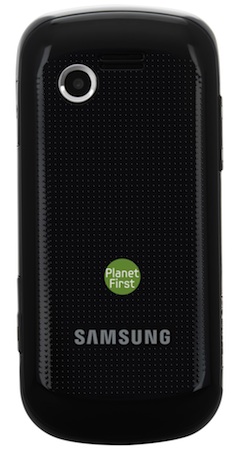 The Evergreen meets strict RoHS standards (Restriction of Hazardous Substances Directive), including being free of PVC, BFR and Beryllium and is powered by an Energy Star Version 2.0 qualified energy efficient charger (level V) with standby power loss less than 0.03W and an energy efficiency of less than 75 percent. The Evergreen's packaging is made from 80 percent recycled post-consumer paper, uses soy ink and is 100 percent recyclable. Inside the box, customers will find a CD, replacing the traditional paper user guide, with information on an interactive tutorial, the phone's user manual, games & apps and AT&T's recycling program. In addition, the device features eco-oriented wallpaper and ringtones.
Samsung Mobile announced it will donate $1 for every device sold, with a maximum donation of $100,000, to the non-profit organization Cell Phones for Soldiers.
Reviews Around the Web:

samsung sgh-a667