AT&T and Samsung Mobile announced the quick messaging Samsung Eternity II touchscreen cell phone (model SGH-A597), featuring AT&T Mobile TV.
The Samsung Eternity II features a full, 3.0″ touchscreen, great for watching AT&T Mobile TV, surfing the web and updating your social networking sites. The Eternity II features three scrolling home screens and drag-and-drop widgets which allow customers to fully customize their user experience. Users will also have access to enhanced social networking with services such as AT&T Social Net which consolidates the most popular social networking sites like Facebook®, Twitter and Myspace into one application and for quick and easy access and PicDial®, an exciting new feature that makes your phone's address book socially aware, allowing users to see full screen Facebook and MySpace profile pictures and status messages of contacts on their mobile phone during every call.
The Eternity II is the latest AT&T Mobile TV-capable device. AT&T Mobile TV subscribers enjoy around-the-clock access to full-length live, simulcast and time-shifted programming from FLO TV, including content from leading entertainment brands: ABC Mobile, Adult Swim Mobile, CBS Mobile, CNBC, CNN Mobile, COMEDY CENTRAL, Crackle, Discovery Channel, Disney Mobile, ESPN Mobile TV, FOX Mobile, FOX News, MSNBC, MTV, NBC 2Go and Nickelodeon. AT&T Mobile TV is $9.99 a month; however, for a limited time, customers with select AT&T Mobile TV-capable devices can automatically enjoy unlimited access to programming from select major networks included for no additional fee.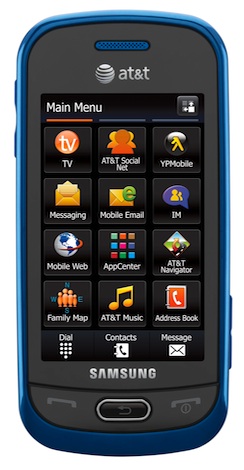 Additional features of the Eternity II include:
Mobile Email
SMS, MMS, Video Messaging and Instant Messaging
Full HTML browser
Smart Gestures
Pre-loaded and Downloadable apps through AT&T AppCenter
Enhanced GPS Functionality, such as Fitness Tracking
AT&T Music
AT&T Address Book
AT&T Navigator (separate subscription required)
Bluetooth v2.1+ EDR
AT&T Video Share and Mobile Video
Music Player with Mobile Music and Videos
2.0 Megapixel camera & camcorder
Expandable Memory up to 32GB
Pricing and Availability
The Samsung Eternity II will be available on August 15 at AT&T retail locations nationwide.