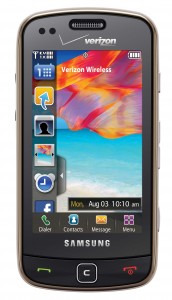 Verizon Wireless' Flagship Phone for New Data Pricing Option
The Samsung Rogue (model SCH-U960) is a sleek messaging phone with a full touch display that provides an optimized messaging experience with a horizontal slide-out, four-row QWERTY keyboard, threaded messaging and one-touch access to popular social networking widgets, including Facebook, MySpace, Twitter, YouTube and Photobucket. The Samsung Rogue also features innovative speech capabilities powered by Nuance that allow customers to launch and control a variety of applications and services with simple voice commands as well as dictate text messages.
The Samsung Rogue will serve as the flagship phone for the company's new data pricing option available to customers beginning today. The new data pricing gives Verizon Wireless customers more freedom to select how much data and the type of data they want to use. Samsung Rogue customers who want to check e-mail; surf the Web; and download applications, games or ringtones will be able to select either a 25 MB for $9.99 monthly access option or a 75 MB for $19.99 monthly access option to couple with their Nationwide plan.
Customers who want to watch full-length TV shows plus news, sports, weather and live entertainment video clips can also add Verizon Wireless' new V CAST Video on Demand plan that gives customers access to unlimited basic video clips, ESPN MVP and unlimited megabytes for their V CAST Video usage for $10.00 monthly. The new V CAST Video on Demand plan replaces the $15.00 V CAST VPak. These changes will not impact existing customers.
Following are additional key features and specifications for the Samsung Rogue.
Available in bronze/black color
3.1-inch ultra-brilliant touch screen
Widescreen WVGA AMOLED (Wide Video Graphics Array Active-Matrix Organic Light-Emitting Diode) responsive touch screen results in one of the brightest and clearest displays on a mobile phone in the United States
Slide out horizontally to reveal a four-row QWERTY keypad
Full HTML Web browsing capabilities with one-touch access to social networking sites via shortcut widgets
Full messaging suite including SMS, MMS, Mobile IM, Mobile Email and Corporate Email
3.0 megapixel camera with flash and video capture and on-device editing capabilities
Supports Verizon Wireless services including V CAST Music with Rhapsody, V CAST Video, and Visual Voice Mail
Media Center-capable – downloadable games, ringtones, wallpapers, location-based services, such as VZ Navigator(sm) and Chaperone, and more
Pre-loaded games including "NEED FOR SPEEDTM Undercover," "Resident Evil: Degeneration," and "Tetris and Dice"
microSD™ card slot with support for up to 16 GB (card purchased separately)
File Viewer can view Microsoft Word, Microsoft Excel, Microsoft PowerPoint and Adobe PDF documents stored on a memory card
Price and availability:
The Samsung Rogue is available today for $99.99 after a $100.00 mail-in rebate with a new two-year customer agreement at Verizon Wireless Communications Stores.