10 Mega pixel Model is the Fourth in Samsung's Flagship NV Series
Samsung Camera today unveiled the newest addition to its groundbreaking NV series of advanced point & shoot digital cameras — the NV11. Representing the latest in intelligent camera design, the NV11 is the fourth product from Samsung to carry the NV brand, and it offers the same unique blend of style and technology that has set its predecessors apart from the field. The NV11 features a premium Schneider lens, as well as Samsung's intuitive Smart Touch user interface which enables easy navigation of the camera's comprehensive feature set by simply sliding a finger across its control buttons positioned around the 2.7″ high definition LCD. Discerning photographers and tech enthusiasts will immediately recognize these two features as being among the hallmarks of the NV Series, along with the brushed black, stainless steel body and trademark Samsung blue ring located around the lens barrel.
The 10 mega pixel, 5x optical zoom NV11 has 1600 ISO high-sensitivity and features Samsung's proprietary ASR image stabilisation system which helps to capture the best possible images even in dimly lit conditions. All images captured on the NV11 can be viewed in dramatic clarity on the camera's 2.7″ LCD.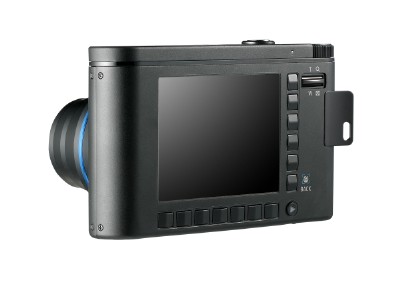 The NV11 is also equipped with Samsung's Face Recognition technology, which detects a subject's face, and automatically adjusts auto focus and auto exposure to ensure better composition and image quality in portraits and other shots featuring people. The AF function instantaneously recognises the faces of subjects and accurately focuses on them. The AE function then takes over, setting the appropriate exposure to ensure the highest image quality.
Capturing moving pictures is made simple with the NV11 which is able to take 30 frames per second in TV quality MPEG-4 VGA format for crisper, richer images.
The striking new Samsung NV11 will have an MSRP of $399.99 and will be available in North America in Spring 2007.
Samsung Opto-Electronics America, Inc., Secaucus, N.J., is the U.S. subsidiary of Samsung Techwin Co., Ltd., Sungnam Kyungki-Do, Korea. Samsung Opto-Electronics markets a full line of auto focus cameras, zoom and digital cameras for the amateur as well as the professional under the Samsung brand name.