10-inch Netbook with Intel Atom Dual-Core Processor and HD Display
Samsung today announced the NF310 netbook, which expands upon Samsung's signature style and premium performance for use at home, in the office, or on-the-go. The new NF310 emphasizes Samsung's continued dedication to innovation in ultra-portable computing, and establishes a new benchmark for premium features with the inclusion of an Intel® Atom Dual-Core processor and a stunning HD display.
Premium Portable Performance
The ultra compact NF310 features an all-new Intel® Atom N550 Dual-Core processor providing up to 50 percent faster performance than in previous netbook models. The efficient and powerful combination of the new Dual-Core processor and HD display make the NF310 an ideal choice for technology enthusiasts. It also boasts battery performance of more than 9 hours, making it perfect for work or play on-the-go.
Whether at home or away, the NF310 makes portable entertainment an eye-pleasing experience. It features a crystal clear HD LED backlit display and offers stunning 720p quality, allowing users to comfortably view detailed images of family and friends or stream HD video.
Enhanced Usability and Connectivity
The NF310's styling also makes it a must-have device. A smooth, contoured clamshell exterior and Titan Silver color highlight the NF310's sleek appearance, while a roomy island style spill-resistant keyboard and large touchpad with gesture support make the NF310 conducive to comfortable computing on-the-go.
Samsung's Fast Start feature, which easily allows the user to put the NF310 in an advanced state of sleep, enhances user satisfaction by reducing power consumption while the device is not in use. The user's session can then be restored in as little as 3 seconds.
The NF310 also boasts Samsung's USB Sleep & Charge technologies. These features allow users to quickly connect and charge cell phones, MP3 players or other USB-powered device even while the NF310 is powered off.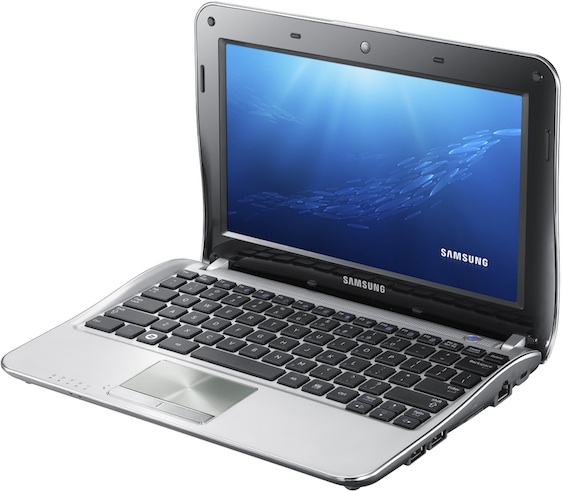 Samsung's Support Center also ensures that data content can stay safe, or can help troubleshoot any particular problem. Accessible with a keyboard shortcut, the Support Center helps users manage their system settings or can setup a tech-support web chat. Samsung's Back-up & Recovery Solution also allows users to create and restore back-ups of system data on the device, or on a network or removable storage device.
Lastly, the NF310 can quickly connect PC-to-PC over ad-hoc WiFi connections, simply and easily. For the ultimate in easy home networking, the AllShareTM feature allows users to share and play videos, photos, and music across a range of Digital Living Network Alliance (DLNA) certified devices, including TVs, cameras and handsets.
NF310 Specifications:
CPU: Intel® Atom N550 Dual-Core processor
Genuine Windows® 7 Starter
Memory: 1GB DDR3
Hard Drive: 250GB
Screen: 10.1-inch HD LED backlit display
Resolution: 1366 x 768
Speakers: 3 W Stereo Speaker (1.5 W x 2)
Battery: more than 9 hrs
Wireless: 802.11b/g/n
Weight: 2.87 lbs.
MSRP: $399 (available Fall 2010)
Reviews Around the Web: samsung nf310