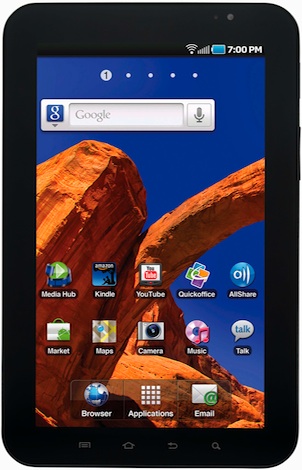 Samsung Mobile announced the Galaxy Tab 7-inch Tablet will be available in a WiFi-only version, as well as 4G LTE-enabled model for use on the Verizon Wireless 4G LTE Mobile Broadband network.
The 4G LTE Galaxy Tab offers an upgraded 1.2GHz Cortex A8 Hummingbird application processor and 5-megapixel rear camera over the WiFi-only model's 1GHz processor and 3-megapixel camera. Otherwise the features are identical:
Android 2.2 (Froyo)
7-inch TFT display with 1024 x 600 WSVGA resolution
16GB of internal storage and has microSD expansion for up to 32 GB of additional storage
Adobe Flash Player 10.1 support
Front-facing 1.3 megapixel camera and camcorder for video chat
12 millimeters thin
Weighs 13 ounces
The 4G LTE-enabled Galaxy Tab also includes access to Samsung's Social Hub service, built around messaging, contacts and calendar sync, it allows users to send and receive information, whether it is e-mail, social network updates or text messages. It also features Samsung's Media Hub content service available on the 4G LTE network, which offers a robust collection of premium movies and TV episodes for purchase or rental from some of the biggest entertainment companies in the United States. Additionally, the 4G LTE-enabled Galaxy Tab will come preloaded with popular LTE-specific applications.
Availability
Both versions are expected to be available in the U.S. the first quarter of 2011.