Samsung Mobile's Planet Bluetooth™ Provides Online Resource for All Bluetooth Needs
Samsung Telecommunications America (Samsung Mobile) announced today several new premium Bluetooth headsets and car kits, as well as Planet Bluetooth™ (www.myplanetbluetooth.com), an online guide to Bluetooth technology and Samsung Mobile's Bluetooth accessories. From mono and stereo Bluetooth headsets, to in-vehicle Bluetooth hands-free solutions and Bluetooth speaker products for audio streaming, Samsung Mobile offers a complete line of Bluetooth accessories to meet the needs of a broad range of consumers.
WEP460: The WEP460 Bluetooth headset offers a small, compact design with a clear ear hook that is detachable. The mono headset is available in a sleek black finish and provides seamless, hands-free communication for an extended eight hours of talk time. The affordable WEP460 stays charged and ready for use wherever a user goes with a talk time up to eight hours and a standby time of more than a week (up to 180 hours) depending on environmental and other factors.

SBH700: The Samsung SBH700 stereo Bluetooth headset gives music lovers the freedom to enjoy stereo quality sound with a foldable, behind-the-neck design. Offering noise reduction technology, the Samsung SBH700 Bluetooth headset creates an enhanced listening experience and premium sound quality in a comfortable form factor.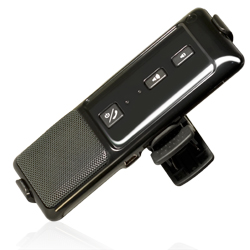 HKT450 Bluetooth Speakerphone: The HKT450 is a compact and lightweight portable device that allows the user to enjoy hands-free communication with ease. The HKT450 can play music, provide turn-by-turn audio cues from GPS-capable phones and play the audio caller ID through its high-fidelity speaker from phones that support these features. If music is playing and a user receives or makes a call, the HKT450 will gently mute the music, cue the call audio then gently restore the music to the last settings before the call. With the simple touch of a button, the portable speakerphone also allows the user to switch from hands-free operation to patent-pending privacy mode, which converts the unit for use as a Bluetooth handset. Supporting up to eight hours of talk and playback audio, or almost two weeks (up to 13.5 days) of standby time in an optimal environment, this in-car or desktop speaker phone rarely needs charging. The HKT450 speakerphone includes an easy-detach visor clip to make in-car use a snap. The speakerphone charges via AC, DC or even PC (USB) and will automatically turn off if the Bluetooth link is lost to save power.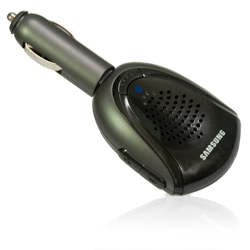 HKT400 Bluetooth Speakerphone: The Samsung HKT400 gives users the ability to reach their full multitasking potential. Evolving to meet mobile users' needs while also investing in their safety, this easy-to-use portable device helps people reclaim valuable talk time once lost while driving by simply plugging it into a car's cigarette lighter outlet. With an adjustable neck, the HKT400 can align the speaker and microphone toward the driver for optimal performance. By simply following a few directions, you can seamlessly pair the device with a compatible Bluetooth-enabled handset and begin enjoying your newfound freedom from wires.
Samsung Mobile's new Planet Bluetooth online resource is designed to provide users with everything they need to know about Bluetooth wireless technology and how to find the best Bluetooth device for their needs and make the most of it. For information about Bluetooth technology including the differences between mono and stereo headsets, profile meanings and the benefits, as well as helpful tips on how to sync Bluetooth enabled products and Samsung Mobile's latest line of Bluetooth accessories, visit www.myplanetbluetooth.com.