Dual-Hinge Messaging Phone is First Handset in the U.S. to Feature State-of-the- Art E Ink Transforming Keypad
Verizon Wireless and Samsung Telecommunications America (Samsung Mobile)1 announce the availability of the Samsung AliasTM 2, the next generation dual-hinge messaging phone with the convenience of an E Ink transforming keypad in a unique flip-style format.
Key features:
Dual-hinge form factor with E Ink keyboard that changes based on what the user needs
Open it vertically as a flip phone and it has a traditional numeric keypad and can change to an alpha-only keypad
In landscape, the phone features a QWERTY keypad that can change to numeric with symbols
Supports RemoSync, so customers can synchronize corporate e-mail, contacts and calendars from their office PCs
2.0 megapixel camera and video capture capabilities
Bluetooth technology with support for headset, hands-free, stereo, phonebook access, basic print, basic imaging, object push for vCard and vCalendar and serial port
Lifestyle features:
VZ Navigator
Visual Voice Mail
Media Center-capable – downloadable games, ringtones, wallpapers, location-based services and more
Mobile Web
Mobile Email; Mobile IM; and text, picture and video messaging
microSD™ card slot with support for up to 16 GB (card purchased separately)
Personal organizer with calendar, calculator with currency converter, notepad, alarm clock, world clock and stop watch
Price and availability:
The Samsung Alias 2 is available today for $79.99 after a $50 mail-in rebate with a new two-year customer agreement. Customers will receive the rebate as a debit card that can be used anywhere debit cards are accepted.
VZ Navigator is available for $2.99 daily access, and Visual Voice Mail is available for $2.99 monthly access. RemoSync is available for $9.99 monthly access. Other charges may apply when downloading or using applications.
Customers can purchase the Samsung Alias 2 beginning today at Verizon Wireless Communications Stores or online at www.verizonwireless.com.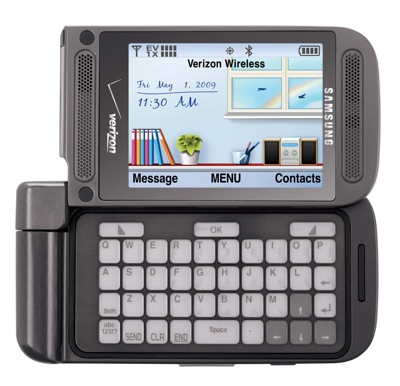 Available color: Charcoal grey