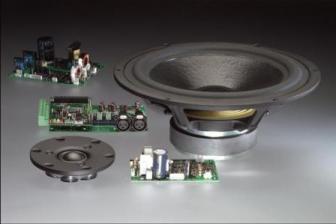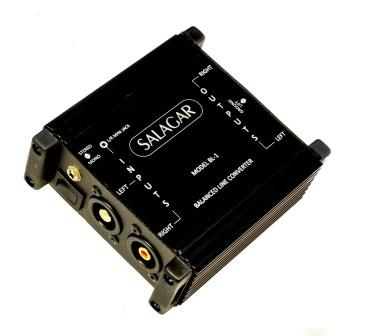 FOR IMMEDIATE RELEASE
SALAGAR Sonics Launches the Symphony S210
First in New Line of Digitally Controlled, Self-Amplified Loudspeakers
DENVER (RMAF Room #578, 5th Floor) and WAUKEGAN, IL, October 12, 2007 – SALAGAR Sonics, a developer of premium loudspeaker systems, today unveiled the SALAGAR Symphony S210 at the 2007 Rocky Mountain Audio Fest (RMAF). Available immediately, this high-end self-amplified speaker produces full, rich sound from its stylish cabinet that emulates centuries of musical instrument design.
"Consumers will immediately recognize the Symphony S210 for its distinctly rounded cabinet shape resembling instruments from the string family," said Salahuddin Khan, SALAGAR co-founder and president. "This design facilitates an even distribution of cabinet stress, realized by creating a curved walled, airtight vessel, to reduce dramatically cabinet coloration for high quality sound production across all audible frequencies."
To ensure listeners experience Drop Dead Sound from a variety of input sources, the Symphony S210 incorporates SALAGAR X-ACT active digital crossover / controller technology with four switch selectable programs to optimize (according input and input source and room setting) the frequency response and sensitivity of the speaker.
"We incorporated SALAGAR X-ACT technology into the Symphony S210 to compensate for the natural spikes that arise from mid-bass cone resonances and other effects coming from transducer-cabinet integration," said Gary DiChiara, SALAGAR vice president and co-founder. "SALAGAR X-ACT digitally processes inputs at a high resolution, 24 bits 96 KHz sampling, and applies SALAGAR's proprietary digital filters to divide the signal between the high frequency and mid-bass transducers. The result is a balanced, musical sound from virtually any source."
The Symphony S210 is the first within the high-end consumer category to integrate Class D amplification technology from ICEpower, a division of Bang & Olufsen, to power the system's two transducers. These modules operate with six to eight times the typical efficiency of Class AB amplifiers at a very high density and generate little heat. Integrated into the Symphony S210's controller inside each sealed speaker, these modules replace bulky external amplifiers, while single balanced XLR inputs replace traditional speaker cables.
To connect an Apple iPod , MP3 player or computer sound card directly to the Symphony S210, all consumers need is the SALAGAR BL-1 Interface, which derives a balanced signal from RCA or mini-jack outputs to convert the required XLR inputs. Ordinarily, a direct connection from such devices results in loss of signal volume and dynamics, which the BL-1 avoids.
Additionally, these speakers will connect directly to high-quality sources, such as CD players with integrated volume controls, music servers, or a state-of-the-art tube pre-amp.
The Symphony S210 is available direct from SALAGAR in five different woods and eight standard automotive grade paint finishes at US $7,999 per pair. The company can customize these speakers according to customer specification, including (for the front applique baffle) leather, mother-of-pearl and 24K gold plating for an additional charge. Speaker stands sold separately and range from US$175 to US$699 per pair. The SALAGAR BL-1 Interface is priced at $149.95
SALAGAR Symphony S210 — Technical Summary
Form Factor: Stand Mounted 2 way, Bi-amplified loudspeaker with adjustable SALAGAR X-ACT digital, crossover/controller
Frequency Response (+-3db): 42 Hz — 20 kHz (Program 1)
Dimensions: 24.61″ H x 15.52″ W x 12.13″ D (without stand)
System Product Weight: 43 lbs. each
Enclosure Type: Sealed, integrally braced, non-resonant in choice of various woods or automotive finishes
Baffle Applique: Laser cut aluminum, powder coated (other material choices optional)
Mid Bass Transducer: 10″ Cast Magnesium Frame, Coated, Non Resonant Paper Cone
High Frequency Transducer: 1″ Soft Dome, 6 neodymium magnet AirCirc system
Internal Power Amplifiers: 2 x Class D ICE Power, 200W max each at 0.01 THD
Crossover Frequency: 1.8 kHz, 3rd order Linkwitz/Riley digitally implemented
Audio Input: Balanced on XLR, Unbalanced optional through SALAGAR BL-1
Controls: SALAGAR X-ACT Startup Program, four settings (P1-P4)
AC Input: 110-230 VAC IEC, Integrated Mains Switch
About SALAGAR Sonics
SALAGAR Sonics develops, produces and markets "premium lifestyle" loudspeaker systems that integrate innovative design, best-in-class transducer technology and high-resolution digital signal processing. Founded in 2005, SALAGAR provides customers with a high-end listening experience at an affordable price. For additional information, visit www.salagar.com or email info@salagar.com.
# # #
Media Contact
Andrew Favreau
Edelman
Telephone: +1 312 297 7587
E-mail: andrew.favreau@edelman.com
SALAGAR and the SALAGAR logo are trademarks of SALAGAR Sonics, Inc. Apple and iPod are trademarks of Apple. ICEpower is a trademark of Bang& Olufsen ICEpower a/s. Other company and product names may be trademarks of their respective owners.