Planar Systems announced the Runco LightStyle LS-12d three-chip DLP home theater projector with Dimension Digital Controller, a wide array of lens options and chassis designs.
As Runco's most affordable 3D projector, the LS-12d is ideal for "Flex-Theater" spaces where big screen entertainment is only a portion of the room's purpose and aesthetics and placement are as crucial as video performance, while still providing an exemplary option for dedicated home theaters. The new LS-12d also delivers exceptional 3D and 2D performance, since 2D content still comprises the majority of material viewed in home theaters and private cinemas. With the addition of the LS-12d to Runco's 3D projection offerings, customers now have a variety of exceptional 3D options to choose from based on their individual needs.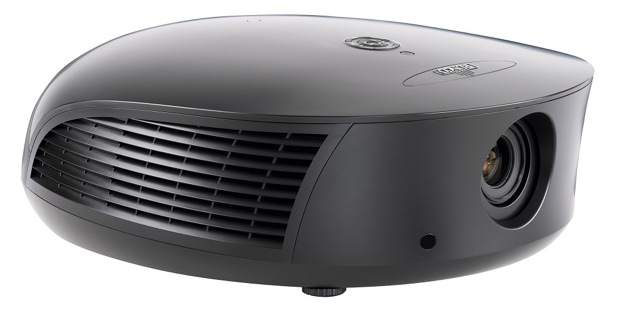 The LS-12d utilizes active 3D technology and comes equipped with three sets of active shutter glasses. With active 3D, customers can enjoy 2D or 3D content on the same screen, ideal for "Flex-Theater" spaces. Runco also provides the choice of passive 3D technology in its award-winning 3Dimension series, which utilize polarized glasses and a silver non-depolarizing screen.
The LS-12d is also the first projector to ship with Runco's new Dimension Digital Controller (DC-300), which has been engineered to enhance 3D performance of Runco 3D-enabled products. This 2U outboard controller provides a level of flexibility and control not found in integrated processors and provides Runco installers with a full suite of calibration tools necessary to achieve the perfect picture, no matter the viewing environment.


The LS-12d can be customized with Runco's FinishPalette which enables complete projector personalization for the homeowner. FinishPalette adds full-color design options, including exact PMS color matching for any college or pro-sports teams, a gallery of artist impressions, and the option to custom-print client-supplied artwork. Complementing the FinishPalette offering are 25 hand-finished signature paint color options.
Price and Availability
The Runco LightStyle LS-12d will be available from authorized Runco dealers beginning April 2012 for $27,995, which includes the DC-300 (MSRP $9,995) and three pair of glasses and two-year RuncoCare standard warranty.
Specifications
Model (Family)
LS-12d (LightStyle Projectors)
Projector Type
3-chip Texas Instruments Digital Light Processing (DLP), SuperOnyx DMD, 3D capable
Native Resolution
Full HD 1920 x 1080 (1080p)
Aspect Ratios
16:9, 4:3, Letterbox, VirtualWide, Cinema, VirtualCinema
Video Standards
NTSC, PAL, SECAM, CEA-861D
DTV Compatibility
480i, 480p, 576i, 576p, 720p, 1080i, 1080p 24/50/60/100/120
Throw Distance Factor x Screen Width
Proteus 1: Fixed 0.77:1 (for rear-screen applications)*
Proteus 2: Zoom 1.45 – 1.74:1
Proteus 3: Zoom 1.74 – 2.17:1 (with CineWide 1.30 – 1.63:1)
Proteus 4: Zoom 2.17 – 2.90:1 (with CineWide 1.63 – 2.17:1)
Proteus 5: Zoom 2.90 – 4.34:1 (with CineWide 2.17 – 3.26:1)
Proteus 6: Zoom 4.34 – 6.76:1 (with CineWide 3.26 – 5.07:1)
CineGlide standard throw 14-24 feet (4.3 to 7.3 meters) typical
CineGlide Focus Match 1 17.5-20.5 feet (5.2 to 6.3 meters) typical
CineGlide Focus Match 2 20.5-24.0 feet (6.3 to 7.3 meters) typical
CineGlide Focus Match 3 24.0-29.0 feet (7.3 to 8.8 meters) typical
CineGlide Focus Match 4 29.0-40.0 feet (8.8 to 12.2 meters) typical
*Varied tolerance up to 5%
Horizontal & Vertical Offset
Vertical: Up to 65% of image height down or up from screen center
Horizontal: Up to 30% of image width left or right from screen center
(Proteus 1 has no offset capabilities)
Light Output
CSMS Specifications: Home Theater Calibration: 1845 ANSI Lumens; 119 Foot-Lamberts (fL); 2,100 ANSI Lumens (uncalibrated)
Contrast Ratio
CSMS Contrast Ratio: >250:1 (ANSI); 10,000:1 sequential
Lamp
230/260W (selectable) HPM lamp
Lamp Life
2000/3000 hours typical (Standard/Economy Mode)
Inputs
See Dimension Digital Controller DC-300 specifications
Power Requirements
100 VAC to 240 VAC +/- 10% @ 50/60Hz & 400W maximum
Operating Environments
Temperature: 50-104 °F (10-40 °C)
Humidity: 0-85% relative humidity (non-condensing)
Regulatory Approvals
FCC Part 15 Class B, CE Class B, UL, cUL, CB, RoHS, WEEE, local conformances as required
12V Output
See Dimension Digital Controller DC-300 specifications
Picture Size (16:9 Screens)
Recommended Width: 72 – 120 in.
Maximum Width: 180 in.
Dimensions
Width: 20.4 in. (519 mm) x Height: 8.9 in. (225 mm) x Depth: 25.3 in. (643 mm)
Lamp Warranty
1000 hours or (6) Six months, whichever comes first
Weight
41 lbs. (18.5 kg)
Limited Warranty
Projector: (2) Two years parts and labor from the date of shipment from Runco. Extended RuncoCare, Red Carpet, and PremierCare also available.
Processor
Runco Dimension Digital Controller DC-300 with Vivix technology and single cable display connectivity
Control
RuncoLink, Ethernet, RS-232, IR remote
Calibration
ISF Certified Calibration Configuration
Color Gamut
> BT.709 (REC709)
Lens System
Motorized focus, zoom, vertical and horizontal offset
Refresh Rate
2D 50/60; 3D 100/120
3D Technology
Frame sequential, active shutter