Runco Crystal Portfolio CX-OPAL65 LCD HDTV
Featuring three new screen sizes and the company's exclusive OPAL image-enhancement technology, Runco broadens its line-up of flat panel video displays designed for unmatched image performance.
Runco, the leading brand in luxury video solutions, announces the newest additions to its Crystal Portfolio™ series of LCD displays: the CX-42HD; CX-OPAL42; CX-55HD; CX-OPAL55 and CX-OPAL65. Pairing Runco's sophisticated video processing and industry-leading OPAL™ (Optical Path ALignment) technology, Runco's new LCD flat panel displays reproduce spectacular 1080p HD imagery for rooms of distinction.
Runco's new LCD displays are ideal for custom home theater clients who demand an unmatched viewing experience in ambient-light environments. Complete with exceptional contrast, brightness and seamless connectivity to multiple sources, each is surrounded by an elegant, black-finish frame that bespeaks luxury. With these new models, the Crystal Portfolio 42-inch CX-42HD and CX-OPAL42, the 55-inch CX-55HD and CX-OPAL55, and 65-inch CX-OPAL65, now offer 120-hertz processing and OPAL technology. In support of Runco's strategy to provide its dealers, who represent the top echelon in the custom home theater market, with the products that meet their clients' exacting needs, these new displays join Runco's three other CrystalPortfolio LCD displays, four PlasmaWall displays and four CinemaWall plasmas to enable Runco dealers to meet any client requirement for flat panel displays.
Each new flat panel display features native 1920 x 1080 performance, as well as Runco's superb Vivix™ digital video processing technology to achieve outstanding picture quality with a wide range of both standard and high-definition source material. Engineered with ISF™ calibration standards for optimal video performance in any room, day or night, the new Crystal Portfolio LCDs feature advanced TFT active-matrix LCDs and includes Runco's discrete aspect ratio control with VirtualWide™ mode to fill the 16:9 screen with standard 4:3 images without loss of picture quality. Also included are discrete source, aspect ratio and power selection and a RS-232 interface to work seamlessly with automated control and system integration. Runco's new LCD displays offer the most advanced connections and greater compatibility to ensure a seamless installation with other audio and video components and automation controls.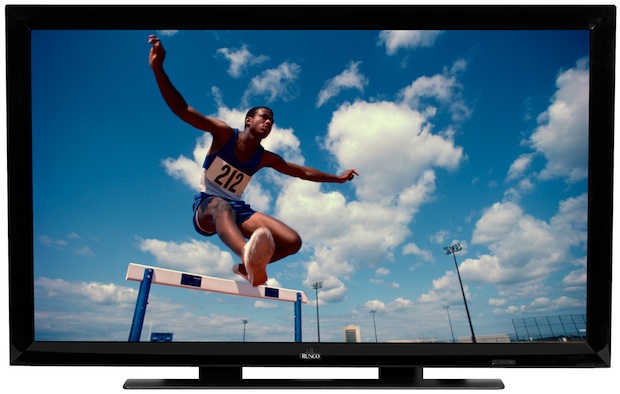 Runco Crystal Portfolio CX-OPAL42 and CX-42HD LCD HDTV
Taking LCD imagery to the next level, Runco's CX-OPAL42, CX-OPAL55 and CX-OPAL65 feature Runco's award-winning OPAL image enhancement technology. OPAL is a unique combination of a proprietary panel application and enhancements to create stellar images. In rooms with high-ambient light, OPAL diminishes the diffused reflections to avoid uneven and scattered light that can cause soft or washed-out images. Runco's OPAL also increases image sharpness by reducing glare and increasing measured contrast ratio by more than three times that of standard flat panels.
Runco Home Theater products are built with quality and craftsmanship to ensure an amazing experience every time. All Runco displays feature a two-year RuncoCare standard warranty. Runco RedCarpet extended options are also available.
All Runco products are available exclusively through its trained authorized dealer network comprised of the best custom home theater dealers in the world.
About Runco
Founded in 1987 and acquired by Planar Systems, Inc. (NASDAQ: PLNR) in 2007, Runco is a market leader in state-of-the-art projection systems, flat-panel plasma monitors, video processors and other components for the custom consumer market. Runco's innovations have won numerous awards and citations from the world press. Runco continues to be a pioneer in the custom video display market.
Planar Systems, Inc is a global leader of specialty display technology providing hardware and software solutions for the world's most demanding environments including hospitals, space and military programs, utility and transportation hubs, shopping centers, banks, government agencies, businesses, and home theaters.
Crystal Portfolio, OPAL, VirtualWide, and Vivix are trademarks of Runco International. ISFccc is a registered trademark of the Imaging Science Foundation.