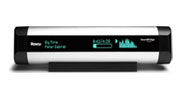 Roku is excited to announce the availability of a new version of software for your SoundBridge. This 2.7 firmware update is free, has some great new additions, and is easy to get.
A simple way to update your SoundBridge is to unplug it, wait 5 seconds, and then plug it back in. After it "boots up" it will automatically check for and offer you a software update. If this does not work for you, use the Software Update menu which you'll find in "Change Server and System Configuration". Here's what's new in 2.7:
Major new features in 2.7:
Streaming from iTunes 7 is now supported on all Roku-branded SoundBridge models.
The newer WPA network security standard is now supported on SoundBridge M1001, SoundBridge Radio, and Pinnacle SoundBridge HomeMusic models.
The new Daylight Saving Time dates in North America and other parts of the world are now included.
Apple Lossless (ALAC) files may now be played natively, without transcoding on the server. [Please note that some ALAC encoders don't write file information in the expected way, and these files may not play. Files encoded by iTunes should work fine.]
Dutch and Italian translations have been added.
Other improvements in 2.7:
The audio output level on M1001 has been improved for better matching with other components.
The Now Playing screen has been improved with better scrolling of long information. Also, more space is available for song information, thanks to automatic hiding of elapsed time and progress displays when using the largest font, or when playing Internet radio content.
Alarms can now be dismissed or snoozed from the remote control. Press pause when the alarm is sounding to snooze, or press Play to dismiss the alarm and leave the music playing.
Pressing the snooze bar while a SoundBridge Radio is in standby with the display off will turn on the time display momentarily.
The built-in Internet radio station listing has been updated.
Playback of music from SD cards on SoundBridge Radio and Pinnacle SoundBridge HomeMusic has been improved. Mac-specific files starting with "._" are automatically skipped, and cards with multiple folders are handled properly.
M500 models now display a proper "…" character when text is truncated. M500 models also display additional accented characters for song information, and will display a "box" character instead of a question mark in place of characters that can't be displayed on the LCD screen.
Support has been added for proper detection and automatic skipping of protected WMA content when using the Firefly server.
Support has been added for new remote control keys on Pinnacle SoundBridge HomeMusic players.
Support for the Nepal Time time zone is now included.
Fixed a problem that could cause audio to stop playing from the outputs, even when the content was still streaming normally.
Greatly enhanced error reporting and diagnostics code to aid in ongoing stability and performance improvements.
Improvements in WMA Internet Radio compatibility.
Improved AAC and MP3 codecs for enhanced stability.
Various other stability improvements and bug fixes.
Improvements in the RCP control protocol.
Updating Your SoundBridge or SoundBridge Radio's Software
To update SoundBridge software, follow these instructions using your SoundBridge remote control:
Make sure your SoundBridge or SoundBridge Radio is connected to a network with Internet access and powered on.
Press the Menu button on the remote control.
Navigate down to "Change Library or Configuration" and press Select.
Navigate down to "System Configuration" and press Select.
Select "Software Version and Updates".
You will be shown your current software version and be given the option to check for a software upgrade.
Choose "Yes" to check for software upgrades for your SoundBridge or SoundBridge Radio.
You should see a screen with the progress bar and the message: "Contacting Server…"
You will then see one of the following two screens:

"Your Software is Up to Date". Select 'OK' to return to the System Configuration menu.
"New Software 2.7 is available. Perform Upgrade?". Choose "yes" to download and install the upgrade. Once the upgrade completes, you will be prompted to reboot the unit. Once it reboots, it will be running the new software.