Ricoh today announced the G700SE ruggedized, water and dust proof 12-megapixel digital camera. As an expanded function model of the G700 digital camera released in 2010, the new G700SE has wireless LAN and Bluetooth® functions as standard features and supports the use of GPS and laser barcode reader functions with options.
Complete with wireless data communication capabilities (Wi-Fi) and Bluetooth®, the G700SE uses Global Positioning System (GPS) functions and laser barcode readers. The camera also features a Scandisk card (SD-1), which provides a higher level of security with password-enabled access. By sliding the card into the camera, a user can only read information by entering the correct password.
Among the improvements found in the G700SE is a more robust and advanced GPS option, with an increased accuracy from six to three meters. This provides more reliable position and direction information. The camera has the ability to migrate information online to various mapping applications such as Google Maps, Google Earth and ESRI's ArcGIS solutions, which in turn can aid in pinpointing location with satellite imagery that is useful in forestry, geological studies and wildlife preserves, to name a few applications.
The laser barcode reader unit makes it is possible to do rapid recognition of linear barcodes. This capability makes the G700SE a powerful tool for a wide range of operations, including facility maintenance of electric, gas, and water utilities. Ricoh owns the unique memo patent that allows users to collect memo data while taking images from the G700SE, along with a time, date and location stamp, which can be transferred wirelessly or directly among departments within an organization. The barcode option is especially useful in data management, such as warehouse logistics, where damaged items can be documented for insurance purposes, utilizing images and onboard memo data.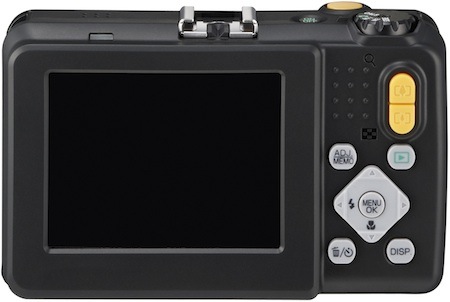 The previous 500SE version has been used by various industries in the public and private sectors. One example of the SE camera capabilities is the GEO tagged photos that facilitated efforts related to the recent oil clean-up in the Gulf of Mexico. The camera's GPS option helped to expedite the deployment process by providing exact GEO location data along with critical time stamp information and embedded images taken on land or in the air.
The G700SE offers 12 megapixels resolution, with a 5x optical zoom and 4x digital zoom. The flash has a maximum range of 10 m and it has a 28 to 140 mm wide-angle zoom lens. It has a compact body size of 118.8 mm (W) x 71.0 mm (H) x 41.0 nm (D) and weighs about 286 g.
Availability
Ricoh G700SE will be available in mid-October. Check price.
Reviews Around the Web:

ricoh g700se