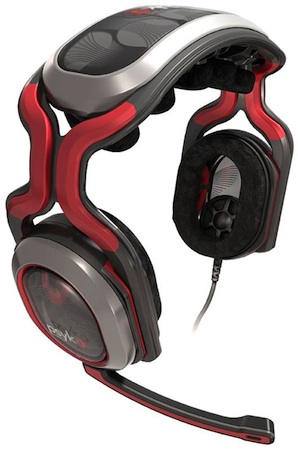 Psyko Audio Labs announced the Psyko Carbon and Psyko Krypton surround sound gaming headsets. The Psyko Carbon is a product advancement and includes premier components and materials for a superior level of audio, design and finish. The Psyko Krypton will replace the Psyko 5.1 product and incorporates a number of market based improvements over the original product.
Both models deliver the most realistic and accurate directional audio ever and are designed specifically for gaming. PsykoWave technology improves your situational awareness, reaction time, game performance and game immersion.
PsykoWave technology uses the physics of sound flow to deliver true 3D surround sound, instead of faking or mimicking surround sound through digital simulation methods (such as DSP). Simulation methods tend to deliver poor sound quality and cannot deliver the correct directional audio cues that must be customized for your unique ear. PsykoWave technology places the speakers in the headband instead of in the ear cups, and uses waveguides to deliver the sound to both ears. Sounds are delivered with the correct timing difference and correct front and rear sound flow direction to reflect off the ear, exactly like a 5.1 room speaker system. This provides the unique customized directional sound signature needed at the ear drum — customized by your own ear shape. PsykoWave technology results in the world's best directional audio, higher quality audio, and no digital signal processing, so therefore no latency.
PsykoWave Technology
Psyko Carbon and Psyko Krypton deliver true 5.1 sound from 5 speakers strategically placed in the headband. The sound is channeled and flows to each ear in a natural way which allows everyone to enjoy true 3D surround sound.
The headphone bridge houses 5 audio speakers (front left, center, front right, rear left and rear right) with a subwoofer in each ear cup for a total of 7 speakers.
Sounds from each speaker carry throughout the Wave guides to pass over the front and back of both ears, giving users natural, not simulated, 3D surround sound.
Five individual speakers in the bridge of the headset to recreate the perfect room
Precision audio waveguides naturally drive the sound to both ears with zero latency and instant positional awareness
Simple setup -plug and play (no software drivers)
Psyko Amp with fully adjustable bass, volume control, and 5 LED visual direction indicator
Pivot-open ear cups keep your ears cool during extended play and hear others
Removable Mic — out of the way, but there when you need it
Psyko Carbon extra features:
New high performance speakers deliver enhanced audio performance and more bass
Tough braided Cable – tangle free and more durable.
Gold plated connectors
Premier materials for superior design and finish
Psyko Carbon and Psyko Krypton are designed specifically for gaming and deliver the most accurate directional audio in a 5.1 headset. If you play First-Person-Shooters, Racing Sims, RPG or MMO games these products are for you. Psyko's precision directional audio helps gamers win more and feel more immersed in the game.
Pricing
$199 for Psyko Carbon
$149 for Psyko Krypton