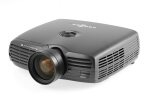 In keeping with its stated intention of offering projector solutions for a diverse array of content requirements, Norway's projectiondesign is now shipping its new F22 projector in both WUXGA and 1080p resolution versions. The new projectors benefit from using Philips' new VIDI™ technology for improved color reproduction and management, along with enhanced image quality and performance predictability.
"At projectiondesign, our goal is to offer projectors for the most demanding and critical applications — as well as catering for some more common ones!" comments Anders Lokke, International Marketing and Communications Manager, projectiondesign. "The new F22 projectors fill a gap in the range of new-platform DLP projectors that we unveiled at the start of this year as well as demonstrated at the recent InfoComm 09. The F22 is our entry-level professional series, sitting below, and being more affordable than our F12 and F32 series projectors. The new series offers a complete range of professional features, such as a full 24/7 use warranty, high-quality precision lenses and outstanding image quality."
Like the F12 and F32, the F22 has greatly enhanced calibration and color-matching capabilities when compared with its predecessor (the F20). As well as its alternative resolutions — 1080p for video, WUXGA for computer graphics — the F22 is also available with a range of four different lens options, while its compact size makes it suitable for installations where space is at a premium.
"The F22 wuxga is the smallest high-resolution projector on the market," says Lokke, "and is suitable for a range of applications including visualization, simulation, and demanding corporate presentations. If HD video rather than graphics will be the predominant content — which is quite possible, particularly in the corporate world — then the 1080p option will be the natural choice for professional users."
F22 product images can be downloaded at: http://www.projectiondesign.com/Default.asp?CatID=1742
About projectiondesign
projectiondesign is a Norwegian company that designs, manufactures and markets a range of high performance projectors for professional, business and consumer applications. Amongst its core markets are high-resolution scientific visualization and simulation, medical imaging, e-cinema, home theater and public displays. Numerous industry milestones that distinguish projectiondesign's award winning, innovative technology include the introduction of the world's first single-chip SXGA DLP projector in 2002, the first commercially available 1080p DLP projector in 2006 and the first WUXGA DLP projector and the first portable and high-resolution active 3D stereoscopic projector in 2008. In 2009, projectiondesign made its first foray into LED illumination. The entire professional product range is warranted for 24/7 usages. projectiondesign is based in Fredrikstad (Norway), and has offices in Gothenburg, Singapore, Milan, Stuttgart, Bilbao, Bombay, Cape Town, London and New York.