POWER A just announced the launch of its Pro Pack Mini, a MiniRemote™ and MiniChuk™, for Wii™. The first of its kind, the Pro Pack Mini offers the same functionality as the Nintendo Wii™ Remote and Nunchuk, in a sleek, miniature size ergonomically designed to provide a more comfortable grip for players of all ages.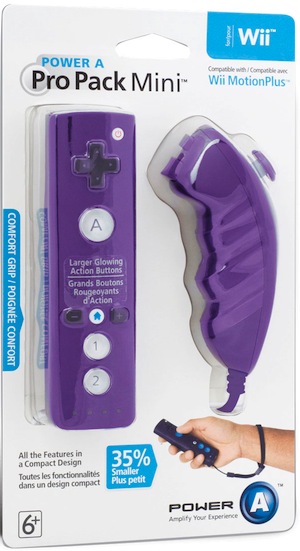 Including the MiniRemote™ that is 35% smaller than the original Wii™ Remote, the Pro Pack Mini features:
MotionPlus™ compatibility
Contoured surfaces providing a natural grasp for more precise handling and eliminating edge pressure points during extended play
A silky, soft touch finish for a no slip grip that doesn't require a glove
Larger A, 1 and 2 buttons for overall increased accuracy and enhanced game play
Glowing main control buttons for anytime use in any environment
A variety of color options including Black, Purple, Pink and Teal
The Pro Pack Mini will have a MSRP of $49.99 and will be in all key retailers beginning in August 2010
"Players will immediately enjoy the sleek feel and handling of the MiniRemote™ and MiniChuk™," said Eric Bensussen, president of POWER A and BDA. "While the smaller devices work well for children with smaller hands, they really provide a more comfortable grip for kids and adults, extending game time, control and enjoyment."
About POWER A
POWER A creates reliable, high quality and innovative accessories that amplify consumers' experiences with the world's best technologies. This consumer products division of Seattle-based BDA, Inc. partners with some of the most popular consumer electronics companies in the world, including Nintendo of America Inc, Sony Computer Entertainment America LLC, Microsoft and Apple. Committed to producing the safest products possible, POWER A carefully monitors product development and quality assurance to exceed the testing requirements of its licensors. POWER A products are available at major retailers in North America, Europe, Australia, and Latin America.