Baltimore MD, USA — July 27, 2004 – Today Polk Audio introduced an entirely new line of RM Series six-piece, five channel home theater speaker systems featuring slim satellites and powered subwoofers. The new line features systems with satellites that may be wall, shelf, or stand mounted and for the first time includes a floor-standing model. The new RM systems are slim, shallow and styled to complement today's slim-line video products such as Plasma, LCD and DLP displays.
All models feature Titanium finish extruded aluminum enclosures. The rounded back design helps to stiffen the enclosure and break up internal standing waves for superior sound quality. For improved performance, the satellites and center speakers feature Polk's patented Power Port technology. "A common problem with small speakers is weak lower midrange frequency response." explained Product Line Manager Al Baron. "That creates the 'hole-in-the-midrange' effect that many listeners object to. We used a new long excursion driver plus our patented Power Port venting technology to make the lower-midrange response of these satellites much more robust than other similarly sized sat/sub systems. The result is seamless satellite-to-subwoofer blending, rich lower mid-range response and wide dynamic range. The diminutive RM6800 system sounds like a good set of full-size speakers."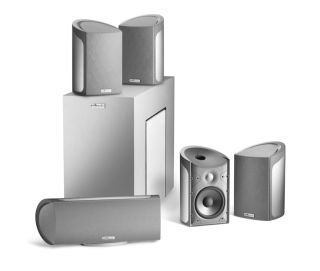 The RM6800, RM6900 and RM7300 models come supplied with a wall mount bracket that allows up to 15-degrees of lateral movement. Built-in threaded inserts allow the use of fully articulating wall mount brackets such as Omni Mounts. The RM6900 and RM7300 systems also include stands for table-top mounting.
Matching center channel speakers also feature wall mounting brackets and include a clever "cradle" that allows the speaker to be aimed upward or downward when mounted on a video display or shelf.
The RM6800 and RM6900 systems are packed in "6 packs" complete with front and rear satellites, center and subwoofer all in one box. Additional satellites are available as separate items allowing listeners to step up to 6.1 or 7.1 systems. The larger RM7300 and RM7400 systems are packaged in an "ala carte" fashion, allowing consumers to choose the combination of subwoofer, front, center and surround satellites that best fit their needs. The RM7300 and RM7400 systems shown in the chart below are typical systems.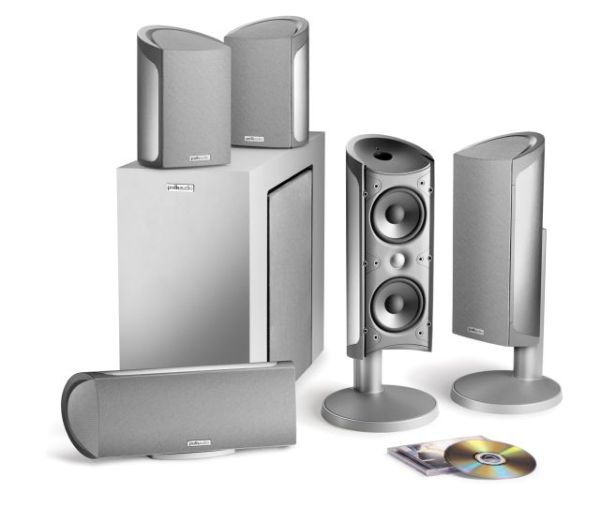 The slim-line powered subwoofers supplied with the RM6800 and RM6900 systems place the subwoofer driver and slot-loaded port on the "side" of the enclosure allowing it to be more easily tucked out of view. When in-view it presents a smaller profile than conventionally styled woofers. "With the popularity of slim-line TVs and unobtrusive satellite speakers, we concluded that reducing the visual profile of the subwoofer would hold great appeal for video-centric consumers" said Baron.
RM6800 and RM6900 systems will be available in North America in August 2004 while the RM7300 and RM7400 will be delivered in November 2004.
About Polk Audio
Polk Audio is an international manufacturer of home and car loudspeakers with headquarters in Baltimore, MD. Matthew Polk and George Klopfer continue to lead the company they founded in 1972 with $200 and a dream. Polk Audio, The Speaker Specialists, holds over 55 US and foreign patents for advances in loudspeaker technology and design. Polk speakers are sold in over 50 countries and in audio/video retailers throughout the US and Canada. More information about Polk Audio can be found at www.polkaudio.com. Consumers can reach Polk Audio by phone (800) 377-7655 or by email polkcs@polkaudio.com.